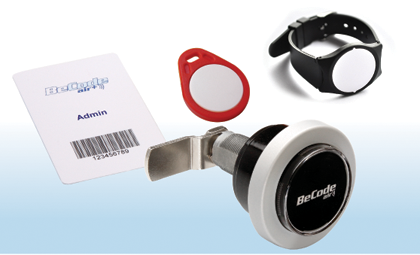 BeCode Air+ is a keyless, electronic RFID locking system that is particularly suited where RFID systems are already in use or planned, as it can be integrated trouble free in existing wireless environments and is compatible to almost every standard. BeCode Air+ recently won an interzum award: intelligent material and design 2013.
BeCode Air+ is easy and quick to install in furniture. The operating concept is designed such that the locking system can be opened in a very uncomplicated way. To gain access you have to show the matching transponder to the freely rotating, ergonomically designed BeCode. Afterwards you simply need to turn the BeCode to open.
BeCode Air is a fantastic addition to the BeCode product family
While one of the leading features in the BeCode evo/evo+ family is its keyless "push and turn" operation, the BeCode Air utilises a completely different concept. The lock is opened by means of a transponder. This makes it ideally suited wherever RFID or other radio-based systems are already in use or are planned, since the decision to use transponders has already been made, allowing for easy integration of the Be- Code Air. The keyless system concept is basically retained, although the way it is operated has been simplified significantly. All you need to do is "show" your card (or matching transponder) to the freely rotating BeCode Air and it is ready to use. Regardless of whether you use the BeCode Air or not after activating it, when the door closes the lock triggers automatically after a freely definable length of time. It could hardly be simpler.
As with the BeCode evo/evo+, the BeCode Air can be integrated into the various standard locking systems used in the furniture industry, both for newly manufactured items and upgrades to existing cupboard systems. And it's not just the handling that makes the BeCode Air so brilliantly simple. Managing authorisations is so easy that a child could do it. As well as easily granting access to various individuals, you can also define different user groups. One or more admin cards are used to assign, extend or remove authorisations. This allows you to react efficiently when a keycard is lost.
These features and its attractive design are not the only advantages of the BeCode Air. At this time, it is the only product in its segment on the market that can be integrated into all internationally relevant wireless standards using a basic circuit board and corresponding radio chips. Literally any and all of the different standards can be applied to the BeCode Air. Generally speaking there are various standards in the RFID environment, as in mobile communications. Thanks to its underlying concept, the BeCode Air can be integrated into almost every standard with no problems, maximising the target market and thus the potential of basic upgrades.
But it is not just integration into these different wireless standards that the BeCode Air can handle. It also recognises them independently of one another. This means that the user is not permanently stuck with a single standard. The admin card lets you simultaneously programme and de-programme cards that use different standards. This also means that you can easily link any future wireless systems with the BeCode Air.
The BeCode Pad is another new addition to the Beloxx product range.
The BeCode Pad keypad lock is an excellent alternative to the BeCode evo/evo+ turn locks and the radio-controlled BeCode Air. Beloxx's highly efficient energy management means that the lock can function for up to 20 years without a change of batteries (up to a maximum of 1,000 closures per month).
The BeCode Pad is available in TAN mode. This system offers high-level security encryption that creates and allocates user codes independently. It can also be operated using various other software functions that are already familiar from the BeCode evo/evo+.
One additional feature is the exterior emergency power supply. Data can also be read externally, which means that you can see which user most recently accessed which lock and with which code. As the front lies flush when installed, the BeCode Pad is perfect for integrating into furniture, offering a solution with both technical benefits and an aesthetically appealing look. Upgrades for the BeCode Pad are slightly more complex than for other BeCode products.
For more information visit www.beloxx.com