A Nottingham Trent University student has won a national design award for her connecting glass lights.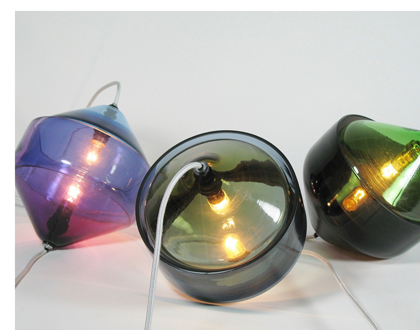 Emily Phillips, who studies decorative arts in the School of Art & Design, beat hundreds of other graduates from across the UK to win the Pulse Award at prominent exhibition, New Designers. The award recognises product innovation and commercial viability from emerging designers.
Judges commended the interactive lighting for its "unique and versatile design".
The lights, which resemble the shape of a spinning top, comprise of two connecting glass pieces. These have been created in a variety of jewel-toned colours.
The judges said: "Due to Emily's passion for her work and vision for product development, we believe her lights have huge commercial appeal within the retail market."
As part of her prize, Emily has been given £1,000 towards set up and design costs as well as a stand at the Pulse trade show at Earl's Court next year. The Pulse Show is a platform for design-focused brands, which will give Emily the chance to present her work to thousands of buyers and suppliers.
Emily said: "I was surprised to have won. This is an amazing opportunity and I'm excited about what will be in store over the next year."