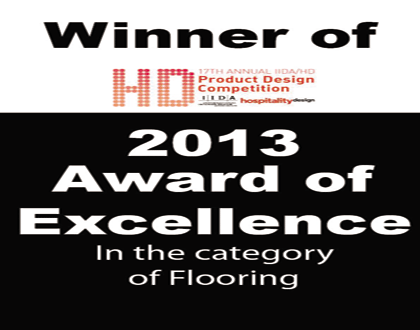 One of Esthec®'s versatile innovative composite products has been honoured by the International Interior Design Association (IIDA).
At the Hospitality Design Expo in Las Vegas Esthec® Terrace received the '2013 Award of Excellence' of the 17th Annual IIDA Product Design competition, in the category 'Flooring, Hard Surface Flooring'. The award confirms that Esthec® truly offers extraordinary innovations in hard surface flooring (design).
The IIDA is a renowned association that aims at creating a strong niche for the most talented, visionary design professionals. It connects and updates its 13,000 members plus other design related and interested people worldwide to not miss out on any thrilling development.
Being the winner clearly confirms, by an independent party, that Esthec® Terrace is a comfortable and contemporary terrace system that embellishes and enhances any space with functional properties, yet offers unprecedented freedom in colour and design.
For more information telephone +31 786845484 or visit www.esthec.com