Founded in 2006 by American-Swedish husband and wife team Anna and Andrew Hellman, the U.S. company's unique business model connects a global network of inspiring designers and manufacturers in an ever-evolving collection of own-brand unique design products.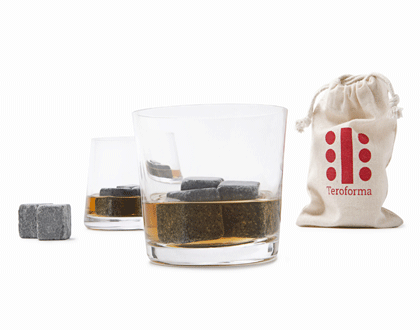 Comprised of glassware, dinnerware, linens, flatware and the Whisky Stones® family, the core aesthetic of Teroforma is "functional minimalism" – driven by a passion for the quintessence of objects and a mindfulness of resource scarcity.
The brand's growing collection is already distributed through more than 1,500 select retailers around the world, including MoMA Store, Crate & Barrel and Sur La Table in USA, Indigo in Canada and Myer in Australia, as well as via www.teroforma.com.
The award-winning brand will work with relevant high-end independent and national retailers to introduce the UK market to key Teroforma designs, starting with the hugely successful Whisky Stones beverage cubes, and family of products.
Teroforma Co-Founder and CEO Andrew Hellman says: "We are excited to be launching into the UK this month, and have already had a phenomenal response from key players in this market.
"Anna and I lived in London before founding Teroforma and consider it to be one of the world's most creative cities, with an unparalleled style and design scene.
"The UK launch will be a wonderful opportunity for Teroforma to make its products and its mission available to a famously cosmopolitan and worldly customer base."
Artisanship and responsible production is always at the heart of the Teroforma brand. Designers are chosen for their unique perspective, energy and talent and matched with smaller, craft-focused independent manufacturers to uphold the integrity of the design process and product quality.
Teroforma shares and showcases the creative journey, usually a guarded trade secret, creating a unique business model, which is unlimited by geographic borders. Examples of these global collaborations include a designer of stacking wooden candle votives in Rhode Island, U.S. working master woodturners in the Czech Republic; a small studio.
near Beijing keeping a vanishing traditional pottery craft alive by hand fabricating bone china designed in the U.K.
Teroforma has so far commissioned products from more than two dozen artists in 14 countries, whose stories it enthusiastically relates on its website and blog.
The brand's ethical philosophy of "transparent cooperation" is shaped by the belief that knowing the story of the creative process and the people involved, means appreciating the final product even more.