The multi-award winning Roca London Gallery has picked up another prestigious title, winning the best Retail Interiors category at the New London Awards 2013.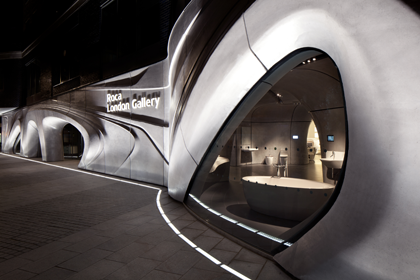 Recognising the very best in architecture, planning and development in the capital, the New London Awards were open to open to new and proposed projects across all sectors of the built environment, with nominations judges by an eminent international jury. Recipients of the awards were those schemes that are of the highest design quality and demonstrate a positive impact on their surroundings and make a wider contribution to life in the city.
The Roca London Gallery won the Retail Interiors category of this year's awards, beating off stiff competition from the likes of Fred Perry in the Westfield shopping centre in Stratford and The Market Hall in SE1.
Now in its second year of trading, the Roca London Gallery, situated in the heart of Chelsea Design Quarter, is a space designed by Zaha Hadid Architects, where visitors can enjoy a unique visual and interactive experience. Zaha Hadid has developed a flexible space for Roca, where displays, a meeting room, café bar, library, multi-media wall, reception and video screens are dispersed so visitors feel they are in an active design centre; a research hub that is much more than just a bathroom showroom.
The innovative space allows visitors to experiment and discover the bathroom world, including everything from product design to the importance of water to society. Roca's most emblematic products are displayed in different areas or environments, where visitors can learn about the latest Roca products and collections, created by top national and international designers including David Chipperfield, Jacques Herzog & Pierre De Meuron and Ramón Benedito.
Roca London Gallery Manager, Eva Kazmierska, commented: "We are thrilled to win the Retail Interiors category of the New London Awards. The customer experience is at the heart of everything we do at Roca and the London Gallery gives visitors a unique insight into our products and our brand. This award is recognition that the Roca London Gallery makes a positive impact on the local community and we are delighted to have been chosen."