MinaLima Design Studio has announced that its new off-shoot company, print studio and online graphic art gallery, The Printorium, will join the curation of design companies selected to transform the ground floor of the Sorting Office into a vibrant retail destination during designjunction 2013.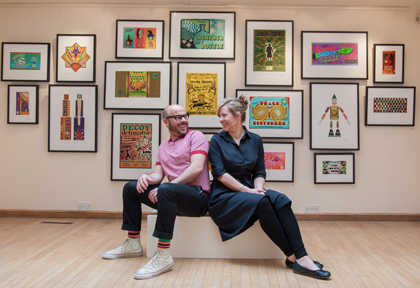 This is the first time MinaLima/The Printorium will exhibit their work during a London Design Festival dedicated event and follows on from a successful show at this year's Clerkenwell Design Week in May and the studio's debut art exhibition at The Coningsby Gallery Fitzrovia in June.
Under new venture The Printorium, Miraphora Mina and Eduardo Lima (MinaLima), the graphic design duo of the Harry Potter film series will exhibit the Harry Potter Collection along with two new print collections.
The MinaLima Collection
This collection of new and original designs by MinaLima pays homage to their love of mid-century design. Each limited edition print is numbered, embossed and signature-stamped by MinaLima.
Fictional Book Covers
Celebrating the art of the humble tome. Six original book jacket artworks are paired with iconic wquotes from those whose lives were immersed in books.
Old English Nursery Rhymes in Song
A collection of thoughtfully designed artworks of six of the most well known English nursery rhymes, from Baa Baa Black Sheep to Twinkle Twinkle Little Star. With a nod to mid-century graphic style, the illustrations are accompanied by the words of the rhymes and their musical notations.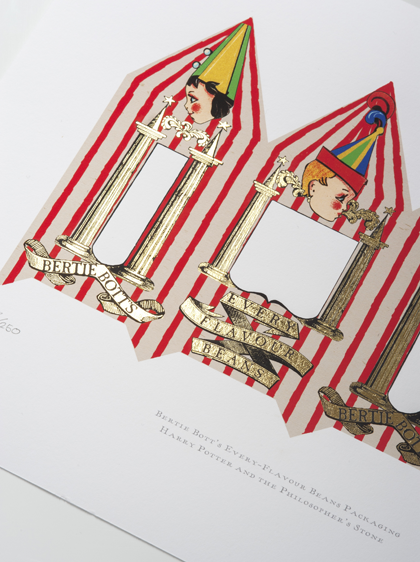 The Harry Potter Collection
Limited edition art prints showcase for the first time unique graphic art from the Harry PotterTM films. Each design is a reproduction based on the original prop artwork produced by the graphic design duo MinaLima on set at Leavesden Film Studios, Hertfordshire between 2000 and 2010.
After having met on the Harry PotterTM film set in 2001, MinaLima worked as the graphic designers on all eight films and helped inspire joy and wonder with the creation of hundreds of unique graphic prop designs, including the Marauder's Map, The Daily ProphetTM newspaper and many items for the set of Weasleys' Wizard Wheezes joke shop as well as lesser-known yet equally distinctive artwork.
Launched in Autumn 2012, The Printorium's Harry Potter Collection explores the rich visual appeal of the films from an artistic perspective taking a nostalgic journey back through the film series' graphic prop archive to create a series of collectible prints, with 45 images currently available.
With the designs being an integral part of the storytelling, MinaLima's attention to detail is paramount in their work. Much historical research and experimentation with techniques is employed, from finding the perfect ageing effects to scanning old typefaces and peculiar surfaces to enrich their visual reference library.
The limited edition artworks (editions of 1000) come in a variety of sizes, colours and quirky subject matter. Each print is numbered, embossed and signature-stamped by MinaLima with a numbered certificate of authenticity.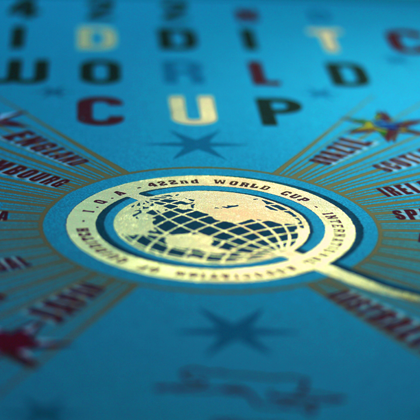 The Harry Potter Premium Collection
The Printorium offers a premium print collection aimed not just at Harry Potter fans, old and young, for whom the unique designs are pieces of Harry Potter history, but also at typographic enthusiasts, design and cinema lovers and those looking for characteristic and original artwork.
This exclusive collection numbers just 250 in each edition and is hand-finished with metallic foils. Further enriching their value they are additionally hand-signed by the artists, Miraphora Mina and Eduardo Lima.
For more information visit www.theprintorium.com or www.londondesignfestival.com
The London Design Festival 2013 runs from 14th – 22nd September.