Roca, international market leader in the defining of bathroom design is to inaugurate a Roca Gallery in the cosmopolitan city of Shanghai (China).
The Gallery concept is a reflection on the brand's intention of maintaining a constant communication channel with society as a whole, and especially with those professionals with whom it shares the desire and interest derived from the development of bathroom design.
Designed by five internationally-renowned architectural practices – London, Zaha Hadid; Barcelona, Borja, Lucía and Carlos Ferrater´s OAB; Madrid, Estudio de Arquitectura Lamela; Lisbon, estudio Ferruz Decoradors – each of them have their own personalities adapted to the nuances of each market without losing sight of their shared attributes, values such as design, innovation and sustainability, all features which define Roca.
Roca Shanghai Gallery has been designed with the objective of showcasing not only the brand's product innovations, but also its philosophy and history, allowing for interaction as well as the possibility of learning about the brand's commitment towards people and the environment more intimately.
According to Xavier Torras, Roca's Brand & Communication Director, "Shanghai is a prime strategic location in what business is concerned and offers unlimited possibilities. Since its arrival in 1999, the brand has endeavored to strengthen its position in the Asian market, adapting to its needs and idiosyncrasies. Without a doubt, the Roca Shanghai Gallery represents one more example of this commitment and aims at becoming a referential meeting point amongst professionals of the sector."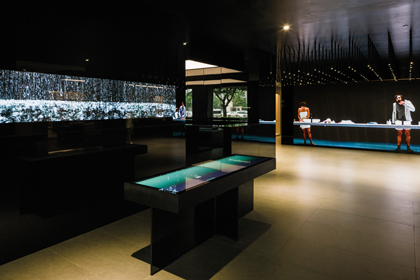 The Francesc Rifé studio said that partaking of this project is a real privilege; providing our own interpretation of the Roca Gallery is a challenge indeed, as we must create a space with its own personality which is fully integrated both with the surroundings and a society with which it is to communicate.
The building has been designed on a reverse floor plan which also features very irregular shapes. The intention of the design which defines this work is its street-level impact. This effect has been achieved through a concept which compares day and night. During the day, a number of exhibition modules are placed on the building's glass façade. In the evening, a number of translucent screens which hide the materials of the exhibition unfold and project the Rituals to the exterior. In this way, the façade becomes an alluring, captivating element which interacts with the public at every moment.