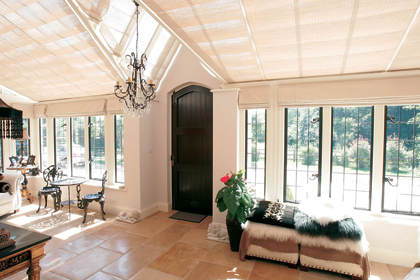 Grants Bespoke Blinds have been manufacturing bespoke Conservatory roof and side panes for over 30 years and remain a leading supplier of quality British made blinds, in all styles and fabrics, manual and motorised.
Grants Bespoke Blinds and Shutters is a family run business with more than 30 years experience. The company offers a complete nationwide service from design to installation.
Working alongside interiors designers and architects, Grants Bespoke Blinds appreciate that the building of an orangery, lantern light, garden room or conservatory, is often a realisation of a dream and want to be part of that dream.
The addition of extra living space is often the realisation of a dream come true for clients. However, making sure you have considered fully which is the right shading system is essential to ensure the new space works as well as your client had hoped and that represents a suitable return on their investment.
Flooring, lighting and heating usually find their way into the planning process, but the question of blinds or shutters will often be left until after the project is complete. The disadvantage of this is that your choices for shading can often be much more limited at this later stage, especially where motorisation is required.
Think, instead, of blinds as part of the structure. This is especially important for example, in the case of an orangery where getting power to the lantern roof area can almost be impossible once the building and decoration work is complete.
Grants Bespoke Blinds can arrange for samples to be sent to you and will happily quote from outline plans to give a realistic price guide for your blinds and shutters. The company offers a free no-obligation advisory visit, provide wiring diagrams and blind layouts for every project, are on call to offer free independent advice to help make the whole process go perfectly.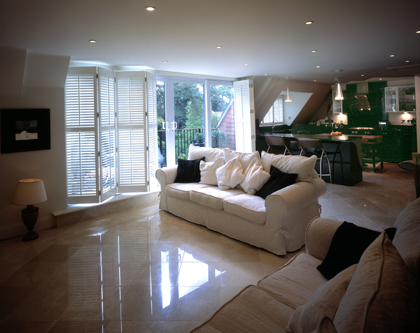 Make a statement with solid wooden shutters
Shutters are available in a range of styles from the traditional to the contemporary, and are especially suitable for gables or arched windows and can be custom finished, painted in one of Grants' own standard colours or using shades from any recognised paint supplier.
All of Grants Blinds come with a five year guarantee with the option of a five year service contract to all clients. All wood used in the blinds and shutters is FSC approved from sustainable sources.
For more information telephone 0800 652 2190, email sales@grantsblinds.com or visit www.grantsblinds.com