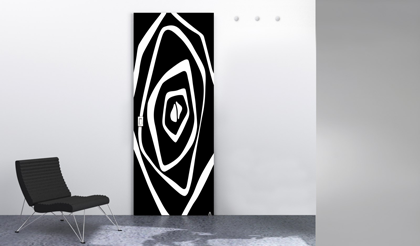 A-Tipiko doors, combines unique Italian styling with high quality, creativity, sophistication and originality in a choice of multi visual solutions and materials.
A-Tipiko's Independent door collection is a unique sliding system that can be used with different materials creating its own personality in the room in which it is placed. The sliding system is presented as the opposite to the classical system with the wheels fixed to the wall instead of the track and the track attached to the door itself.
The door shown is produced from tempered stratified glass 5+5, white/black non filter, "hip hop" decoration, with niche "V-514" and rail with hidden fixing.
A-Tipiko doors choice of woods, patterns and colours of decorative glass allowing endless configurations allowing designers to create a unique and original décor with customisation allowing the customer the possibility to design their own ideal door.
The glass, the different types of wood, anodised aluminium and other materials used to create A-Tipiko doors are selected to ensure the creation of highly resistant doors that are convenient and easy to installed.?A-Tipiko doors are designed to be durable and functional, providing rooms with a touch of sophisticated elegance, aesthetic perfection and originality.
Mixing Italian taste and artisan skills to the innovative manufacturing techniques, A-Tipiko doors are able to give a strong personality and a unique style in the environment in which they are located. Designed and manufactured entirely in Italy, A-Tipiko doors are fully guaranteed.
For more information telephone 01245 422489 or email richard@phoenixms.co.uk