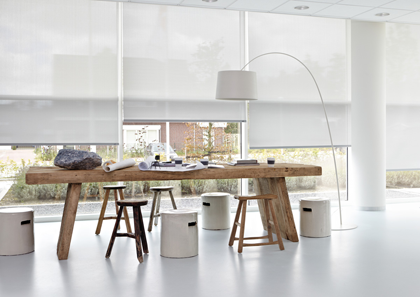 Luxaflex® is committed to creating window coverings in a sustainable manner helping customers everywhere save energy the natural way. Keen on Green is an initiative designed to promote the energy saving benefits of Luxaflex® products, as well as a dedication to creating environmentally sound products in a sustainable manner.
GreenScreen Eco, GreenScreen Revive and GreenScreen Earthcare are stunning ranges from Luxaflex® that have been produced with the environment in mind. Luxaflex have taken great care in selecting eco friendly raw materials and methods of production, and are committed to contributing to a sustainable and healthy environment.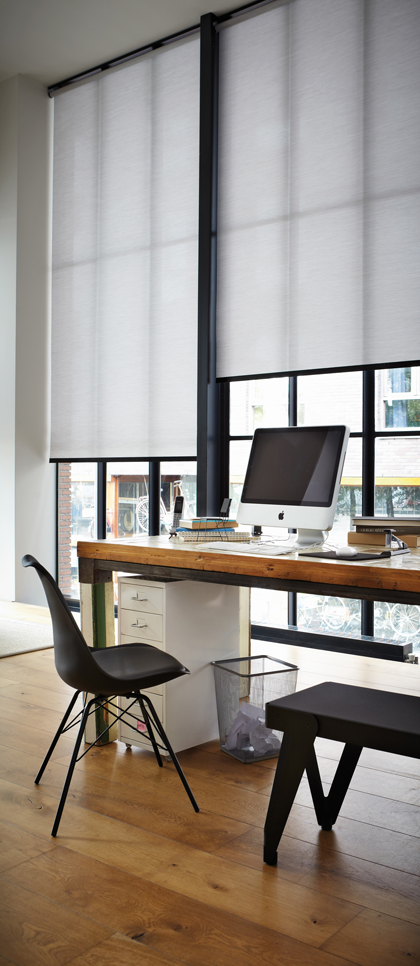 GreenScreen Eco 1%, 5% & 8%
This series of screen fabrics consists of PVC-free material that can be re-used within the industrial cycle, and has been awarded a Cradle to Cradle certificate. These fabrics can be recycled after the useful life of the blind has ended.
GreenScreen Revive 3%
This remarkable fabric is made from recycled plastic bottles. Two bottles can provide enough yarn for 1m2 of fabric.
GreenScreen Earthcare
This decorative textile fabric is made from lactic acid (sugar cane and cornstarch), a renewable raw material that is 100 per cent biodegradable. Compared to polyester, the production of this fabric results in 75 per cent less CO2 emissions and 56 per cent less fossil fuel consumption.
Other eco friendly ranges include the range of Aluminium blinds, Luxaflex® have been using recycled aluminium blinds since 1948. Currently the aluminium blinds are created with 98 per cent recycled aluminium and can be 100 per cent recycled without loss of quality.
Luxaflex® wood blinds are made from natural timber and consist almost entirely of FSC® certified wood. Bamboo is the most durable, aesthetic and environmentally friendly alternative to hardwood, and is the fastest growing plant growing up to one metre a day. Luxaflex® blinds made from bamboo are very light yet sturdy and strong and offer a beautiful and characteristic grain.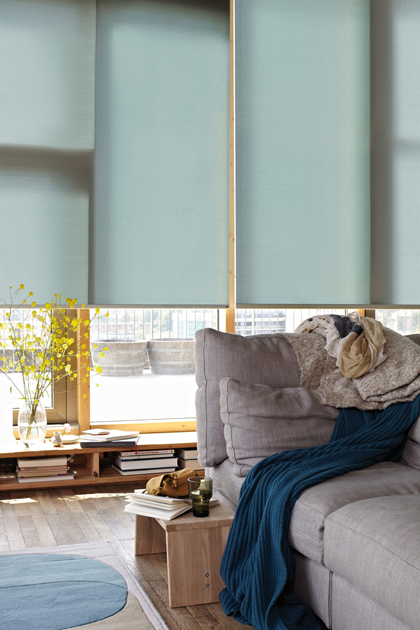 Energy Efficiency
On average without energy efficient window treatments between 20 per cent and 30 per cent of the homes heating and cooling energy is lost through its windows. Energy efficient shades enhance insulation and protect you against cold and drafts during winter, whilst in summer the shades help reduce the amount of solar heat passing through the window keeping you cool and comfortable.
To some degree all Luxaflex® window coverings contribute to energy efficiency However the Duette Shades collection is the most effective. Without window coverings 72 per cent of solar heat passes through double glazing Duette Shades reduce this amount by up to 78 per cent. Heat loss at the window can be reduced up to 60 per cent single glazing, 46 per cent double glazing and 25 per cent HR++ Glazing.
Eco Blinds start from £99 for a 610mmX813mm blind.
For more information visit www.luxaflex.com