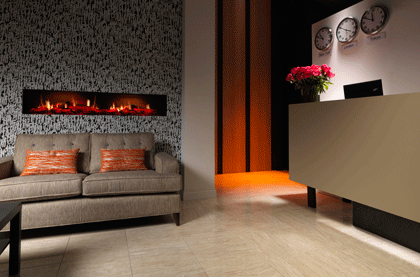 Dimplex, the leader in electric fires, has launched Opti-V, a stunningly realistic flame effect which offers the ambience of a real fire all year round without the need for costly installation or running costs.
Opti-V combines real fire footage displayed on a high definition LCD screen with a unique illusory technique to create a truly 3D effect of flickering flames – complete with smoke and burning embers. Together with audio footage of crackling logs, the award-winning effect offers a year-round solution for design projects, providing all the atmosphere and ambience of a real fire without unwanted heat – and all at the running cost of a light bulb.
Opti-V is available in two designs:
Opti-V PGF10: LCD television screen with optional stainless steel effect frame, using low-energy LEDs and remote control with sound effect volume control. Named Best Overall Product in the prestigious Hearth & Home 2013 fireplace industry awards
Opti-V PGF20: A double-width LCD television screen offering all the benefits of PGF10 with increased aperture for commercial installations and prestige projects.
Chris Stammers, marketing director at Dimplex, said: "Opti-V uses a clever technique to create the illusion of three-dimensional flickering flames, enabling venues to offer a truly realistic flame effect all year round without the need to consider heat output in summer months or busy periods.
"As fuel costs continue to rise we are seeing more and more customers turn to electric heating and this is the most realistic fire effect yet, costing just £30 a year to run.
"It is a genuinely unique effect which combines the latest in electric flame technology with stylish design. Both designs are cheap to run, require minimal maintenance and provide a stunning focal point for any room. We are very excited about the opportunities Opti-V can create."
For more information please visit marketing@dimplex.co.uk or www.dimplex.co.uk/opti-v