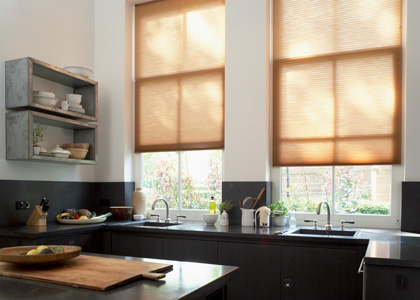 With Autumn upon us now is the right time to start thinking about getting the home ready for the winter months. During winter you tend to spend more time at home hibernating, so it is essential to make sure that you have a secure and warm environment to snuggle up in when you don't feel like braving the weather. Luxaflex® have a range of blinds designed to insulate the home, changing your window coverings is an easy and stylish way to help make your home energy efficient.
Windows are energy holes in the home. They allow up to 50% of the homes heating energy through them. By minimising heat loss through your windows in winter and reducing the amount of radiant energy permitted to enter your home in summer the amount of energy needed to heat a property to a particular temperature can be significantly reduced, leading to a reduction in energy bills.
To some degree all Luxaflex® window coverings contribute to energy efficiency however the Duette® Shades collection is the most effective. Without window coverings 72% of solar heat passes through double glazing Duette® Shades reduce this amount by up to 78%. Heat loss at the window can be reduced up to 60% single glazing, 46% double glazing and 25% HR++ Glazing. Duette® shades feature a unique honeycomb construction that makes them soft, durable, and highly energy efficient. The honeycomb design works in a similar way to double glazing, by trapping the warm air in the pockets of the fabric. This minimises heat loss through your window, reducing the amount of energy needed to heat your home. The shades built-in insulating characteristics help keep the heat out in summer and the warmth in during winter.
Duette® shades allow you to create your own elegant atmosphere by controlling how much light is filtered into your room through the stylish assortment of beautiful fabrics and choice of transparency. Luxaflex® options allow you to combine contrasting fabrics and transparencies in one blind and to raise or lower both ends. Highly versatile, Duette® Shades are available in hundreds of colours and a wide variety of semi-opaque and opaque fabrics. Duette® shades can be custom made to fit any shape or size of window making Duette® perfect for sloped windows and conservatories.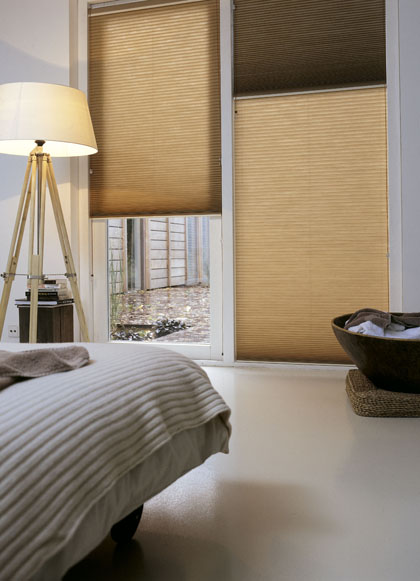 To find out how much money you could save Luxaflex® have created an energy saving calculator on their website. Developed as part of their Keen on Green programme the unique tool allows you to calculate your savings in three easy steps. All that is required is to answer questions regarding your home, with the information given every user receives advice regarding the best Luxaflex® product for them and the amount of savings in terms of percentage that can be made.
For further information please visit www.luxaflex.co.uk