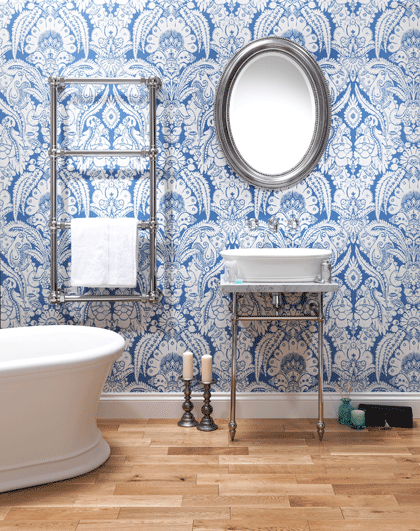 Bagno Design has launched its most comprehensive bathroom range yet with the Bloomsbury Collection inspired by late night Jazz parties, cocktails and the social rascals of London town in September 2013.
Emulating the air of elegant London living from the turn of the Century, through the roaring 20s and the classic era of the 1950s, the Bloomsbury Collection brings luxury and opulence to the modern day, yet classically styled bathroom. The range combines the best designs of the era with traditional craftsmanship and the latest production techniques. Bloomsbury represents a fusion of English design and culture with the best in Italian technology and creativity.
Inspiring creative thinking in the bathroom, this new collection offers a real mix of materials and finishes to inspire individuality. The range not only includes a choice of two freestanding bathtubs guaranteed to be statement pieces, but also features standard washbasins which can be combined with a variety of different washstand options, available in a variety of finishes, to suit the space available. These can be combined with a number of WC and bidet options, including a high cistern, for the ultimate nostalgia piece.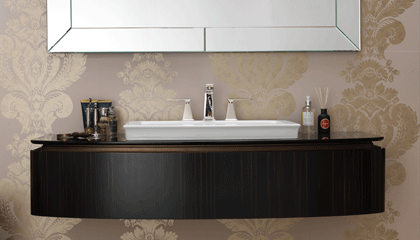 Meanwhile, the range also includes a number of furniture options, all made from the finest marine ply, with a rich ebony veneer. Furniture pieces include vanity units and wall-mounted vertical units, to ensure the bathroom is streamlined and orderly. The sanitaryware and furniture in the Bloomsbury Collection is joined by a comprehensive range of brassware, which emulates the feel of the mid 20th Century, whilst integrating the very best 21st century ceramic disc technology. Perfect for injecting a sense of vintage chic to the classically styled bathroom, the Bloomsbury brassware is available in a choice of three finishes of chrome, polished nickel or gold.
For a truly co-ordinated finish, the Collection is completed by a range of accessories designed to match perfectly with the sanitaryware, furniture and brassware, plus a variety of antique-style mirrors that offer timeless elegance.
020 7553 6999 | info@bagnodesignlondon.com  | www.bagnodesignlondon.com