Founded in 1979, Peter Guild is known for producing upholstery of outstanding quality with an emphasis on design. Manufacturing in Long Eaton, the UKís heart of upholstery excellence, Peter Guild has a reputation around the world for blending aspects of the traditional and contemporary in perfect harmony. The companyís flamboyant style and skills in producing luxurious comfort have won it admirers and awards.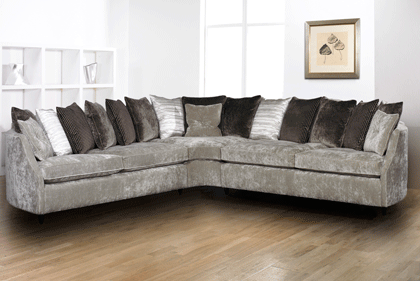 Peter Guild provides the kind of flexible approach demanded from a leading producer of exclusive furniture and is happy to upholster any of its designs in a wide variety of high quality fabrics, or in any fabric of the customerís choosing. There is a broad selection of cushion-fillings to suit individual requirements, coupled with a choice for feet, legs, valances, cording and piping. The design and manufacturing team will tailor any design to the specifications of the buyer.
Frames are constructed using carefully selected hardwoods. They are glued, screwed and dowelled together to create a solid foundation for the upholsterer to build upon.
All frame corners are braced to accommodate Kenrick orbital castors, legs or feet.
Traditional cone springs are meshed together and locked into Duflex tension springs to provide an exceptional level of support. The seat is then stitched into the spring unit to create a long lasting and stable platform.
Serpentine springs are used to provide back support in most of our models.
Arms are built up using webbing, hessian, durable high density foam and fibre to create the design and build in durability.
Layers of hessian and polyester fibre are upholstered beneath the fabric on all outer surfaces to provide extra protection against damage in use.
All fabric is expertly cut and pattern matched. Cushion seats are reversible and zips are colour?matched. Fabric flaps are sewn in to cover the zip ends to prevent snagging on facing fabrics.
Seat and back cushions are available in a variety of fillings to suit individual requirements. Olsterer to build upon.
For more information please visit www.peterguild.co.uk and Like us on Facebook.