British brand, Baker & Gray, was founded by Sarah Baker and is inspired by her international travels. Her vision is to translate her experiences and new discoveries into beautifully designed fabrics, textiles and interior pieces. Sarah lived and worked in Africa as a fashion designer for many years. Baker & Gray's aesthetic draws inspiration from her life in Africa and the local people from all over the continent – a colorful combination of cultures.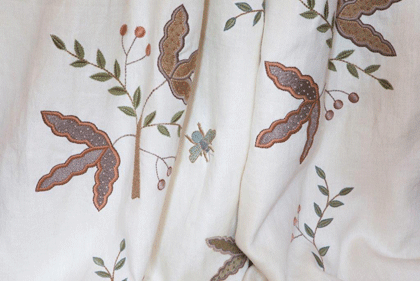 The result is an embroidered collection of fabrics and textiles, inspired by the flora and fauna of Africa. It uses refined and sophisticated materials including silk, antique lines, cashmere, velvet and wool. The essence of Baker & Gray is timeless elegance, with a strong emphasis on outstanding craftsmanship and the
use of excellent materials.
In addition to the fabric range, Baker & Gray also offers a unique collection of bespoke embroidered lampshades, available in a variety of colours and designs, as well as cushions, a personal selection of English and French decorative furniture and mirrors, all of which complement the fabrics.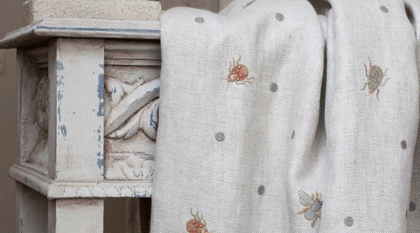 Every item from the collection is exclusive and inspired by a specific event in Sarah's life, for example the celebrated collection of cushions entitled 'Classic Beetle Spot'. These reference her travels to a friend's farm where she collected various beetles, leaves and seedpods, all of which have taken center stage in the majority of her work.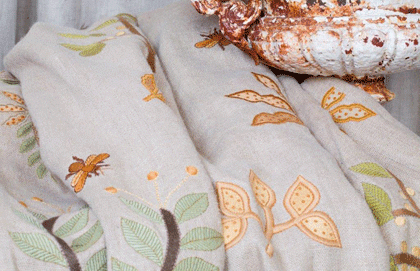 This May, Sarah opened the doors to her first ever boutique in Notting Hill, London, where visitors can truly immerse themselves in a unique brand experience. Every product is special and created to every client's specific individual requirements.
For more information please visit www.bakergray.com.
Fine and Bespoke Fabrics
Invites you to view their Fabric and Accessories collection at their London showroom Notting Hill.
Wednesday 13th November 2013
Thursday 14th November 2013
57 Chepstow Road, London W25BP
11am – 4pm
Autumn refreshments
RSVP: sarah@bakergray.com
Tel: 0207 243 2558