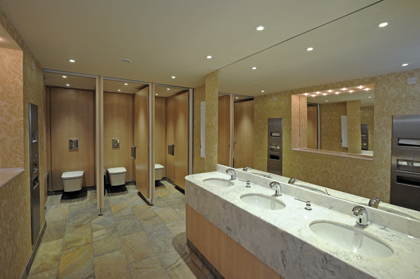 Versital™ offers beautiful, high-quality bathroom surfaces in a wide range of marble and granite finishes. These fabulous surfaces are ideal for domestic and commercial bathrooms and washrooms. Versital™ offers made to measure shower panels, vanity tops and shower trays.
Available in 90 different colourways in a range of natural-look marble and granite finishes, and a contemporary sparkle. Colour consistency of Versital™ is a huge plus. Unlike natural stone where variations in cut and sourcing of the material can create inconsistencies of finish, Versital's™ colour consistency and finish is assured.
One of the most popular of Versital's™ finishes is 'Arabesque', a white marble-look surface threaded through with black veins that has the richness of Carrara Marble. Unlike natural marble and stone, which are porous, Versital™ is 100 per cent waterproof and stain resistant making it the ideal material for use in the bathroom.
Another attraction for designers is that Versital™ is manufactured to specification ready for installation, cutting down on mess and wastage. It only needs ordinary wood-working tools, rather than masonry tools and can be cut on site with minimum effort. Versital's™ most popular product is its made-to-measure shower trays. Manufactured to exact design specifications in any shape or size, available in the full colour palette.
As well as domestic bathrooms, Versital™ is ideal for the Boutique hotel market, offering a luxury high-end look. Versital™ vanity tops with multiple basins are also perfect for commercial washrooms and bathrooms.
For more information telephone 01204 380780, email sales@versital.co.uk or visit www.versital.co.uk.