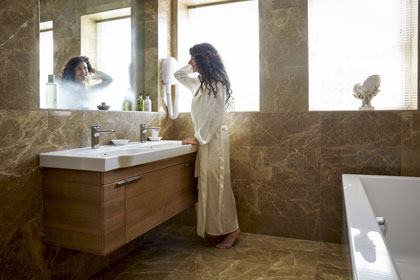 Underfloor heating has been with us for 2,000 years, brought to us by the conquering Romans who found that the system they used to heat their famous bath houses, was ideal to keep their homes warm in the cold, wet climate of Brittannia.
When space is at a premium, or the room has an unusual shape, particularly in cloakrooms, radiators can be both unsightly and cumbersome. Small bath or shower rooms often incur the same problems. This is where electric underfloor heating comes into its own and where steam free mirrors prove to be a bonus.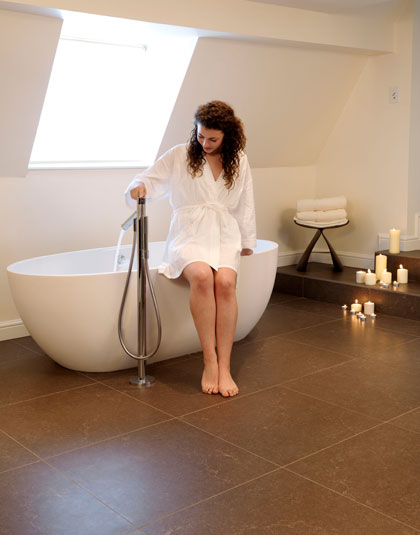 The trend today is for solid floors, whether they are wood, laminate, stone, marble or tile. Whether this choice is for health reasons, dust mites are more prevalent in carpets and can cause allergies, or for fashion, these floors, though appealing, can result in uncomfortably cold feet, especially in areas such as the bathroom, shower room, wet room and conservatory.
There are three products to choose from, Cosyfloor™, Ecofloor and Ecomat, each designed to suit your particular requirement. Both Cosyfloor™ and Ecofloor are earth screened so they can be safely used in areas where water spillage is expected. Ecomat is ideal for laminate and wood floor surfaces in areas such as hallways, living rooms and bedrooms.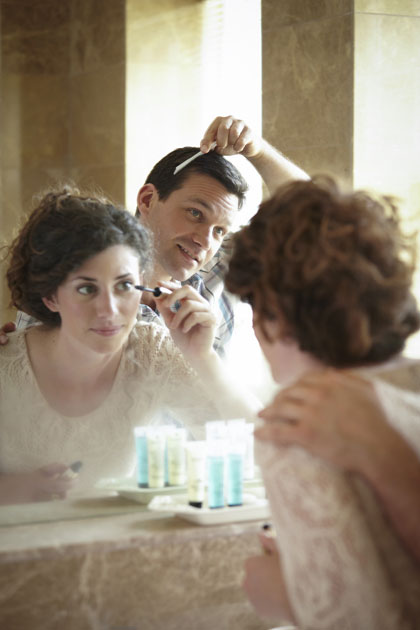 If the rooms have irregular shaped areas, this is not a problem as Ecofloor cable kits are designed to fit over the floor space to be heated and can easily be configured around immovable objects to achieve optimum coverage and results. And you can set your own temperature levels with all the underfloor systems via a programmable, or simple on/off thermostat.
House builders, developers, architects and specifiers, have, for many years now, taken the underfloor heating route, rather than choosing to install radiators. The systems offer gentle, overall, comfort heating.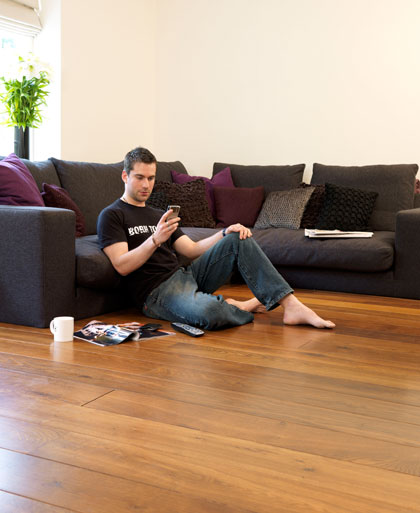 Why struggle with a steamed up mirror when putting on make up, shaving or styling hair? To ensure bathrooms have steam free mirrors, fitting a demista™heated mirror pad will guarantee a clear view no matter how much steam is created.
These self adhesive pads come in a wide choice of sizes and combinations of pads can be fitted should the mirror be exceptionally large or unusually shaped. They are easy to install and are completely maintenance free. The mirror pads have been fitted in the bathrooms of leading hotels and luxury apartments, around the world, meeting international standards for safety and the cache' of the Made in Britain mark.
The heated mirror pads can be fitted into bathroom cabinets as well as on flat walls. No more mess with the mascara or cutting yourself whilst shaving, when you have a demista™ steam free mirror.
For more information please visit www.demista.co.uk or www.cosyfloor.co.uk.