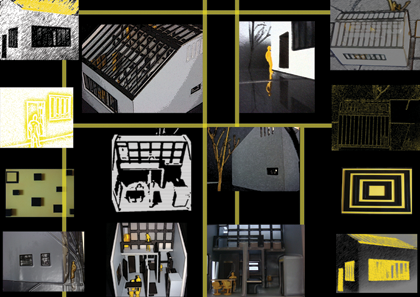 From its origins in 1893 through to the present day, art and design at Buckinghamshire New University has been the cornerstone of its success.
??Building on the university's strong art and design heritage, two courses in BA (Hons) Interior and Spatial Design and FDA Design and Make for Interiors are encouraging Bucks students to change the spaces around them using completely new concepts and materials.
??Course Leader David Barrass explains the idea behind the BA (Hons) Interior and Spatial Design: "If you want to change the spaces around you, and to create new ones, this course is for you. Our course will give you the opportunity to work with public and private spaces and within a wide range of buildings so that you develop as a versatile designer.
??"On this course students can prepare for a career in the exciting world of contemporary interior and spatial design and engage with unique and dynamic design projects with sites and clients in London and world-wide."??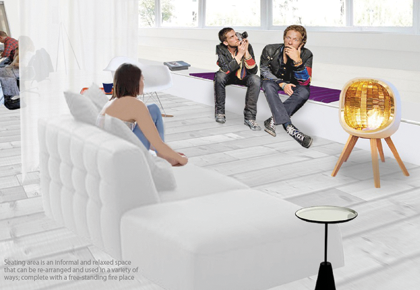 David continues: "The three year degree course covers the conceptual, theoretical and practical skills needed to become a successful interior and spatial designer. You will learn how to complete successfully all aspects of design projects from initial site visits and client briefings through to final presentations.
??"We will teach you studio and workshop-based model-making skills using our laser cutting and 3D rapid prototyping equipment. You'll be taught drawing and CAD visualisation techniques with the programmes AutoCAD and 3D Studio Max, so that you can present your work with confidence." ??
Students work on live briefs from design practitioners in the field, including recent project collaborations with The Sorrell Foundation, the Victoria and Albert Museum, The National Trust, Murray Chalmers Music PR, London, Muse and Bouygues Development, London.??
David added: "We have an Erasmus exchange programme with Sint-Lucas School of Architecture and Design in Ghent, Belgium, and we have an annual study tour to New York. Our students build up their business contacts through networking opportunities and we have had many graduate success stories."
??A complementary course to Interior and Spatial Design is the part time Foundation Degree in Design and Make for Interiors. This is an excellent route into professional practice that draws on Bucks expertise in the field of design and make. Course Leader Fiona Davidson explains: "This unique course will help you understand how textiles, surface design and upholstery can be used creatively in interior spaces.
??"It's offered in a part-time mode over three years as well as two years full-time, so it will enable you to design with imagination and confidence, focusing on creative interior decoration for domestic and contract spaces. The addition of practical textiles, upholstery and soft furnishings experience makes this course distinctive and provides a strong vocational focus."
??The course will link together strong practical skills to more conceptual, design-led outcomes, with the ability to consider fashion lifestyle trends and to advise customers appropriately. Graduates from this course will be fully prepared to work within the industry in areas such as designing and making with textiles as well as providing services in upholstery, designing furniture and making. Prospective students could also choose to pursue a design and make career in the installation of functional decorative surfaces for interiors.??
Alternatively, students may wish to set up their own interior decoration company or prefer to continue studying and progress onto the final year of one of the BA (Hons) courses in Interior and Spatial Design or Textiles and Surface Design, with further opportunities for study on our renowned postgraduate programme.?
?For more information telephone 0800 0565 660, email advice@bucks.ac.uk or visit bucks.ac.uk??

Bucks New University?
Queen Alexandra Road?
High Wycombe
?Buckinghamshire
?HP11 2JZ