Interior design specialist Katie Crossley has been recruited by Manchester architecture practice AEW. Katie, who joins from Leach Rhodes Walker, has been appointed as senior interior designer, adding to the company's expertise in this field.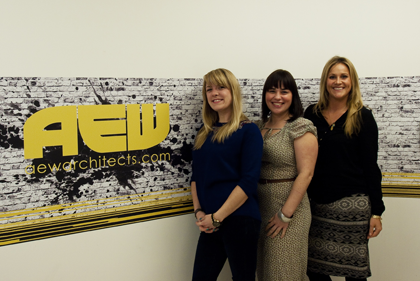 Experienced in working with clients across a range of sectors including retail, office and residential, much of Katie's recent work has been within hotel development, with projects as diverse as five star brands complete with destination restaurants, leisure and conference facilities, to independent schemes and budget brands. Her smart, elegant design style and pragmatic approach has made Katie an ideal addition to the team.
Andrew Critchlow, Director at AEW, said: "Katie is a skilled designer who is both trend aware and budget conscious, a combination which I'm confident our clients will appreciate. We were impressed with her design flair, particularly within the hotel sector which is an area we are developing and currently have a number of projects which will benefit from Katie's expertise, including Old Trafford's Hotel Football and numerous boutique hotel projects for private clients."
Katie said: "The opportunities within interior design have increased and strengthened in recent years, especially with a greater understanding of the positive impact it can have on productivity and well being. Developers, particularly within the retail, hotel and leisure market, want to stand out from the competition and validate their brand with quality spaces. I enjoy working with clients to understand what they want to convey through the design and helping to create attractive yet workable spaces. AEW has some exciting projects in the pipeline and I'm really looking forward to getting started."
Katie joins a rapidly expanding team of five interior designers, which also welcomed Interior Designer Helen Ewart in the summer. Helen, previously with AEW before a spell at Redbridge Interiors, has teamed up with Jennie Rowe on re-imaging schemes for AEW's biggest client, McDonald's Restaurant Ltd, among others.
AEW is a 50-strong practice based at Spring Gardens in Manchester city centre which provides planning, architectural, exterior and interior design services for a broad spectrum of clients across various sectors, including retail and hotel, sport and leisure, commercial office, industrial and the accommodation sectors.