Blacksheep, the award-winning international design agency, has unveiled its most recent project, the Qbic Hotel London City, which officially opened on the 12th of November 2013.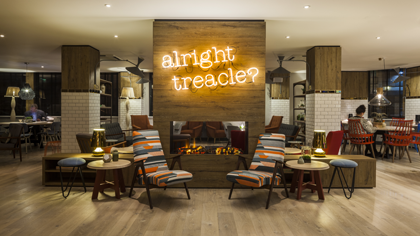 The innovative new hotel is a UK first and the sister hotel to Qbic Amsterdam, an affordable pod style hotel for the budget savvy traveller. Key to Qbic's offer is their modular bedrooms, called Cubis. These futuristic living spaces are made off-site and can be easily installed to exacting specifications. Blacksheep's brief was to design the spaces which would be named after domestic home spaces including a Cubi dining/living area and library. The spaces would not only translate Qbic's strong brand identity and philosophy but also reflect the charm and vibrancy of its East London location in Whitechapel.
The ultimate ethos behind Qbic is that it integrates into the local community, creating a welcoming and flexible space for all to enjoy and belong. It takes inspiration from the creative energy of the East End and infuses this with its own brand values; Humanity, Fashion, Food, Art and Design. It seeks to invite a range of locals to its fold, from local Brick Lane bakers to small local business and upcoming artists, to use the space as their own creative sanctuary. The beauty behind the brand is that it is still young and is continually evolving, much like the creative process itself. There is no defined structure and no rules here. The design approach reflects this as it presents innovation from a range of local suppliers as well as artists from its home country of Holland, each with their own story to tell.
With ambitions for growth, Blacksheep also designed a range of bespoke Qbic icons based on the hotel's core offering, 'the cube' that could also act as signature design features in future hotels. Side tables resembling cubes equipped with integrated ipads, colourful metal cubic signage and striking pendant lights also in cubic form, are just some of the powerful elements which depict the brand's passion for technology and design.
Blacksheep Founder Tim Mutton commented, "Qbic's coming to London marks the growth in the trend of affordable luxury. People are demanding more for their money and brands like Qbic are answering this demand by creating unique design and hospitality experiences for their guests but at an affordable price. It's all about bringing a different concept to the market".
Qbic owner Paul Rinkens concluded, "Blacksheep is special and being special is ultimately what's it's all about. Telling the Qbic story and transforming it into the right environment is extremely difficult but Blacksheep hit bull's eye with their design concept first time around. It is a company with extreme character and we can relate to that because Qbic is too."