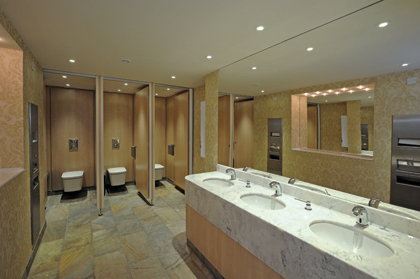 …Bathe as the Romans do. Versital™ takes bathrooms into the 21st century.
Versital™ was established in 1988 by a British manufacturer and offers beautiful, high-quality bathroom surfaces in a wide range of marble and granite finishes. Versital™ is used to create fabulously high-end surfaces that are ideal for domestic and commercial bathrooms and washrooms.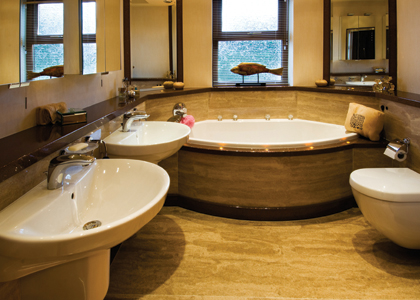 Versital™ is versatile
It can be fashioned into shower wall panels, vanity tops and shower trays. It's available in 90 different colourways and offers a range of natural-look marble and granite finishes, and a brilliantly contemporary sparkle finish. In fact, Versital's™ marbled finishes are so realistic they have been used in the Roman Baths in Bath.
One of the most popular of Versital's™ finishes is 'Arabesque', a white marble-look surface threaded through with black veins that has the richness and look of Carrara Marble.
Specifiers and designers are also installing the popular 'Noir Reflect', a black finish shot with sparkling silver flecks to create stunning effects. Another popular finish that screams elegance and sophistication is the 'Graphite' granite.
Colour consistency of Versital™ is a huge plus. Unlike natural stone where variations in cut and sourcing of the material can create inconsistencies of finish, Versital's™ colour consistency and finish is assured.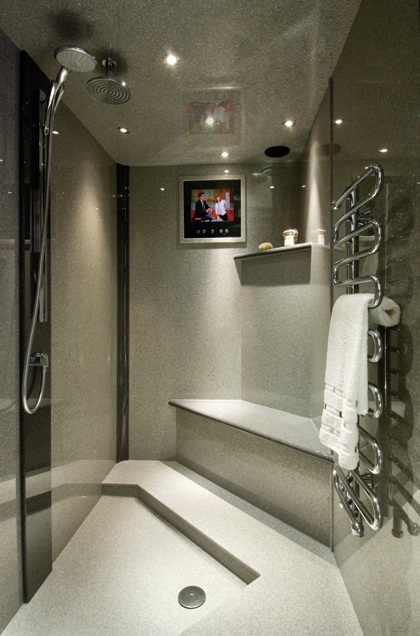 100% Waterproof and Nonporous
Unlike natural marble and stone, Versital™ is 100 per cent waterproof and stain resistant making it the ideal material for use in the bathroom. Whereas marble and granite are naturally porous and need to be treated to ensure they're water-tight, Versital™ products come finished and ready for use. In addition, unlike natural stone products, Versital™ doesn't stain, even when subjected to astringent bathing and cleaning products.
Manufactured To Specification
Another attraction for designers is that Versital™ is manufactured to specification. Unlike natural marble and granite, where there is often a high degree of wastage after cutting, Versital™ can be made to measure.
It's also only needs ordinary wood-working tools, rather than masonry tools and, if necessary, can be cut on site with minimum effort and mess. Drilling and fixing into Versital™, too, is also a whole lot easier than into traditional tiled surfaces.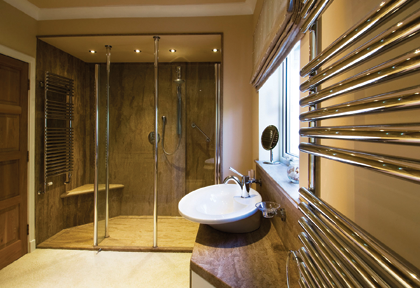 Bespoke Shower Trays
Versital's™ most popular product is its made-to-measure shower trays. Manufactured to exact design specifications in any shape or size, available in the full colour palette.
These are a brilliant alternative to traditional wetrooms. Being manufactured in one piece, there are no seems or joints to cause weakness or leakages so they're waterproof and water-tight. They're also being used in larger shower areas and for bathrooms for clients with mobility issues; a designer recently ordered a 3metre long Versital™ shower tray for a client.
Versital™ shower trays are also safer than those made of natural products. Unlike shower floors manufactured from natural stone, all Versital™ shower trays have a category 2 certified anti-slip base, making them suitable for all commercial installations as well as domestic. And, unlike tiles or other natural bathroom surfaces, Versital™ is actually warm to the touch and works in conjunction with underfloor heating systems.
Multiple Basin Washroom Vanity Tops
As well as domestic bathrooms, Versital™ is ideally suited to the Boutique hotel market, offering a luxury finish and high-end look. Versital™ vanity tops with multiple basins are also perfect for commercial washrooms and bathrooms.
For more information telephone 01204 380780, email sales@versital.co.uk quoting Interior Design Today, or visit www.versital.co.uk