Mather & Co has started 2014 on a high note, witnessing two years' hard work designing the new International Olympic Museum in Lausanne, Switzerland, come to fruition as the museum opened its doors to the public at the start of the year.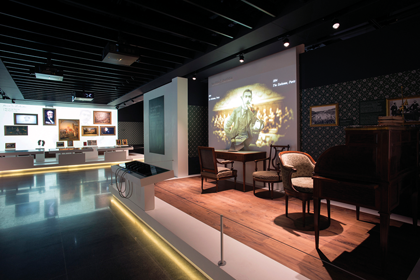 The highly prestigious contract awarded to Mather & Co in 2011 has seen the company design the museum's three floors of permanent exhibition galleries.
Working side by side with the Olympic Museum team, Mather & Co developed the narrative and themes and 3D designs of all the museum spaces.
"We chose Mather & Co to design the new museum because the team has excellent credentials in museum and visitor attraction design around the world – especially sporting museums," explained Francis Gabet, Director of the Olympic Museum, International Olympic Committee.
"The team has been able to help us bring to life the story of the Olympic Movement through stories, artefacts, art, audio-visual and interactive displays and to make the museum beautiful, educational and truly inspirational in the world."
The museum is the largest centre dedicated to telling the story of the Olympic Movement.
"It has been a truly positive collaborative process between our design studio and the IOC team to create this world-class attraction," said Chris Mather, Director of Mather & Co.
"Projects like this one don't come along every week: to work on such a world-class museum combining the skills and expertise from a number of EU countries is very exciting."
The museum
The new museum will welcome visitors to three floors of permanent exhibition areas of over 3,000m². Two educational zones almost 150 m² in size will welcome young visitors from April 2014, allowing the educational and cultural activities to be expanded. The permanent and temporary exhibitions are designed to highlight aspects of Olympic culture and its relationship with the world. The museum offers visitors an insight into the complex and fascinating story of the athletes, champions, artists, architects, volunteers and many others who have played a part in the creation of the Olympic Games.