Architectural Digest has announced that AD100 architect David Rockwell, President and Founder of Rockwell Group, will create the signature Architectural Digest Greenroom at the Academy Awards®.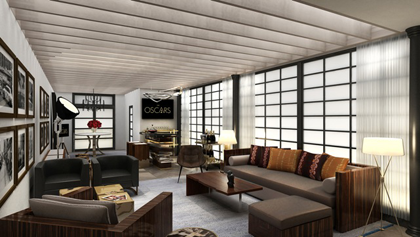 In addition, Rockwell will collaborate with Academy Award-winning actress Susan Sarandon on several of the room's graphic elements. This is the 12th consecutive year that Architectural Digest will produce the exclusive backstage lounge for Oscar® presenters and honourees.
Inspired by contemporary urban lofts, Rockwell and his team at Rockwell Group will create an open, airy, and light-filled environment, incorporating a wall of windows, an eclectic mix of new and vintage furnishings, and layered and textured finishes. Rockwell will also create a "fantasy garden" adjacent to the Greenroom that will serve as an outdoor lounge.
"David Rockwell's design is so handsome, and it seamlessly blends luxury, modernism, and high style, the perfect combination for this year's loft-inspired Greenroom," said Margaret Russell, Editor in Chief of Architectural Digest. "The Greenroom he's created will be a chic, inviting space that will mirror the glamour and glow of Oscar night."
Rockwell designed the sets for the Academy Awards in 2009 and 2010, as well as the interiors of the Dolby Theatre. For this year's Greenroom, Rockwell wanted the Greenroom to reflect a new kind of luxury based on how people live. A mix of furniture in neutral hues and natural materials will be punctuated by spots of intense colour.
"We're thrilled to have been selected by Margaret Russell to design the 2014 Architectural Digest Greenroom, and to have the renowned actress Susan Sarandon co-curating the space's artwork," said David Rockwell. "With our understanding of the unique dynamics of the Oscars, we've conceived a relaxing, intimate environment that will be a true oasis."
Sarandon, a five-time Oscar nominee who won an Academy Award for Best Actress for her role in the 1995 film Dead Man Walking, will work with Rockwell and the Academy to curate an art installation of digital and still images dedicated to the rich history of the Oscars. The animated installation will appear on a large technology wall comprised of a mosaic of 86 Samsung devices—from Smart TVs to smartphones and tablets, one for each year of Oscar. Additionally, Sarandon and Rockwell will curate a wall of framed art featuring favourite still images from movies.
"I'm thrilled to be working with someone of David Rockwell's caliber and to help him and the Academy celebrate the Oscars in such an innovative way," Sarandon said. "It's a great privilege to be able to showcase my favourite images and moments from the history of film in this beautiful space."
The LAB at Rockwell Group is designing software to allow the Samsung technology wall to show the digital art installation, morphing between a singular image to multiple images. In addition, a "Twitter cam" will be connected to a vintage tripod, enabling Greenroom guests to take photos of themselves with other presenters, winners, and performers and post them to Twitter.