Rubelli has announced the launch of Studioart, leather interiors, at the London showroom, during Design Week 2014.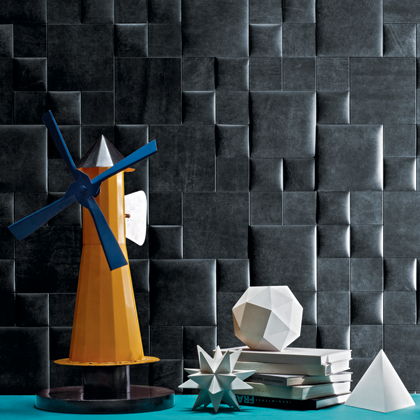 Studioart is a dynamic Italian family company, founded by Nadia and Gianfranco Dalle Mese, offering stunning leather walls for interiors, crafted in the family Montebello tannery in the renowned leather region of Vicenza, Italy. The tannery provides leather for high-end fashion houses. The extensive experience and craftsmanship fused with creativity and the ongoing commitment to pioneering technological innovation were key factors leading the family company to launch Studioart.
Innovation in design
With Studioart, leather transcends the frontiers of the fashion world to become a major player in interior design with custom-made leather walls to satisfy the most varied needs and styles of living spaces.
The Studioart commitment to stylistic research has resulted in new patterns, formats and textures to create authentic, personal designs to suit different environments: understated collections sit next to vivid, bold contemporary designs opening up the possibilities for a wide variety of space interpretations; from contemporary to classic.
Studioart is a laboratory of ideas, techniques and processes that combines originality, functionality and refined elegance, made in Italy.
Collections
LEATHERWALL is a collection of exclusive leather wallcoverings that perfectly marries Italian craftsmanship and contemporary taste. The collections play on various patterns: natural, rustic and vintage looks that enhance leatherís natural characteristics and shades; sumptuous brocades, laces and interlaced designs recalling the contemporary fashion trends; or creative geometrics that give the leathers original optical effects.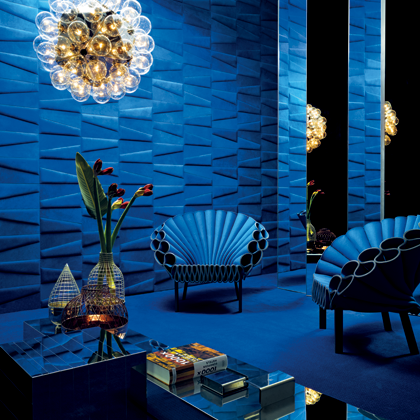 WATERSUEDE 41 trapezium 15x40x7,5cm flat and padded. Price £870.78 per square metreIn the 2014, the new collections Star and Outland are introduced to give a contemporary touch to interiors. The collections showcase a myriad of tactile embossing options that suggest sophisticated combinations of styles and colours, emphasising and enhancing the natural characteristics of the leathers.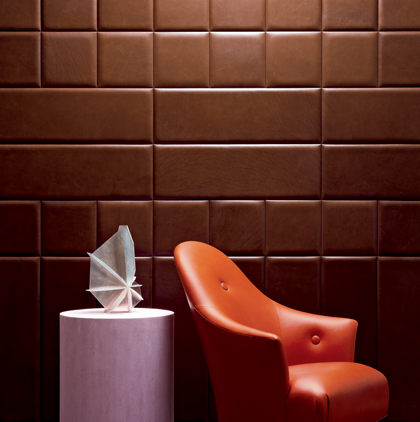 STAR is a luxurious full grain, transparent leather. The natural colour shades and tight grain make this leather extremely refined and the light organic finish results in a beautiful vintage look. Unlike most vegetable tanned leathers, Star has the perfect thickness and flexibility to be used for any upholstery application.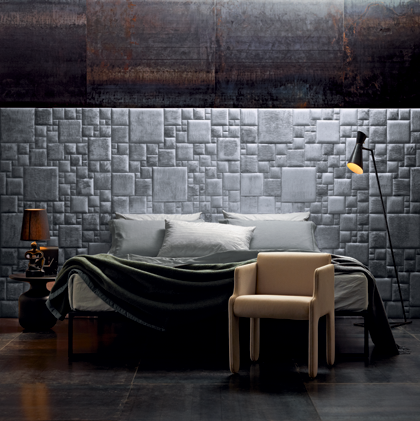 MUSHROOM is a leather inspired by natural shapes but is created using a highly innovative technological process. Produced using precision machinery, the leather is cut into ultra-fine films that produce an ever-changing three-dimensional effect. This striking effect is accentuated by the padded design of the material that highlights the uniqueness of every tessera. Tesserae can be installed in opposite directions to further accentuate the 3D effect.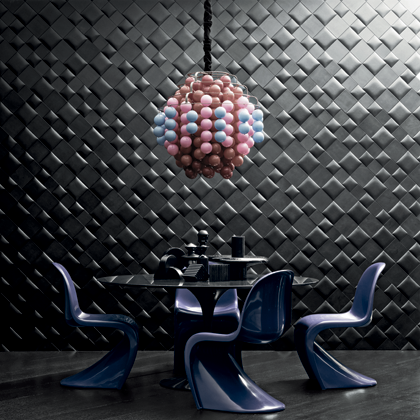 WATERNATURAL is the leather treated with water-repellent properties. Outstanding in suppleness, transparency, and feel, Waternatural is the leather of choice for enhancing the most luxurious settings. Tiny natural imperfections and small colour variations are typical characteristics of the Waternatural collection. A collection which, over time, is enhanced with a chiaroscuro appearance and unique hues.