Leading global design and innovation company Seymourpowell has announced details of the design of an entire new luxury bathroom range that combines beautiful aesthetics with exceptional functionality, for Ideal Standard, the leading provider of innovative and design-driven bathroom solutions.
As part of the design challenge, Seymourpowell was tasked with combining beautiful style and design with solid functionality and ease of use. The result is Dea – a sumptuous bathroom range with a soft flowing look and feel that fuses premium quality and aesthetics with total comfort and functionality.

A key driver for Seymourpowell's design was to create a more human, emotionally satisfying environment that moved away from angular, minimalist and geometric lines. The Dea range is instantly inviting, using soft, precise forms with beautifully poised, feminine curves. The range includes basins (vanities, vessels and totem), furniture and mirrors, toilets and bidets (floor standing back to wall, and wall hung), and bathtubs (including an elegant free-standing variant).
Seymourpowell Co-Founder and Director Dick Powell said of the design process, "With everything we do, we start with people. In the intimate space of the bathroom, that means being more human and less geometric in a market which is otherwise deeply saturated with the simple geometry of minimalist products. We characterised that objective for Dea with the words 'Accessible Beauty'. Accessible in two senses – that it be affordable, so not super high end luxury limited to the very rich; and accessible in the sense that it be approachable, useable, practical, comfortable and ergonomic. Surprisingly, beauty is not a word designers use much, but it speaks to two important aspirations: first, it implies a classic resolution of form with elegance and poise, balanced proportions, simplicity and flowing surfaces and lines. And second, the word implies a sense of softness and femininity, which is so important in the intimate environment of the bathroom".

Ideal Standard Marketing Director, Mike Pentecost, said, "With Dea, we have combined the ergonomic know-how for which Ideal Standard is renowned with high-end styling and design flair.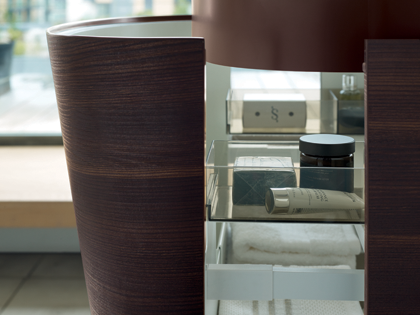 "Seymourpowell has left no detail to chance. From materials to technology, sophisticated ceramics to clever storage, and a rich spectrum of colours, every element has been carefully thought through."

Designed with maximum elegance, the range still has the user experience in mind. The baths in the collection feature chicly flared sides, fluid corners and slim edges. Beautiful basins are deep enough to wash in, but do not splash back when the tap is turned on, while curved front furniture slopes away from the user, allowing them to get even closer to the basin. Basin units have been created with masses of space for beauty products, making them both functional and beautiful.


Coordinating storage cabinets include a side unit, high cabinet and 1/2 column. The full range of W.C suites come with a distinctive and luxurious, thin soft closing seat, while bidets are available as either floor-standing or back-to-wall.

All storage units in the range come in a choice of colours and textures – from gleaming white and neutral beige to glossy dark grey and matt dark wood – giving users the freedom to express their personal style, whilst maintaining a luxurious look.

ideal-standard.co.uk
www.seymourpowell.com