To coincide with the Milan Furniture Fair from 9th – 13th April 2014, luxury lighting brand Baroncelli will showcase a range of new lighting designs at EDIT by designjunction, located within the historic 18th century Palazzo Morando in Milan's fashion district.
Baroncelli will release a range of new designs as part of the Flexus and Saturno families. There will be a series of new Flexus pendants, a Flexus wall light and a Flexus table lamp lit by a hidden tape of LEDs. Baroncelli will also introduce the new Saturno LED table lamp, whilst the Saturno pendant and Saturno wall light will be available in two new finishes – rich copper and opulent gold. Baroncelli is also delighted to present the Atomos pendant for the first time.
The Flexus designs will each use a number of satin gold components with cylindrical cristallo rods in a variety of configurations to showcase their versatility. Inspired by the Flexus series which launched in 2011, Baroncelli has expanded and evolved its original range of components to incorporate new features and lighting elements to add drama, innovation and versatility to this striking range of designs.


The Flexus pendants will be made of intertwining circles and elegant curves bolted together and suspended. Elements will be embedded with a fine tape of LEDs emitting a soft continuous glow. Clusters of these inventive arrangements – demonstrating the family's versatility and the ability for designs to be extended to produce additional variations by adding to or rearranging the components – will engage and inspire up high. Below Baroncelli will display a series of its new Flexus wall lights and the new Flexus table lamp each embodying the essence of the Flexus family with gold curves and circles.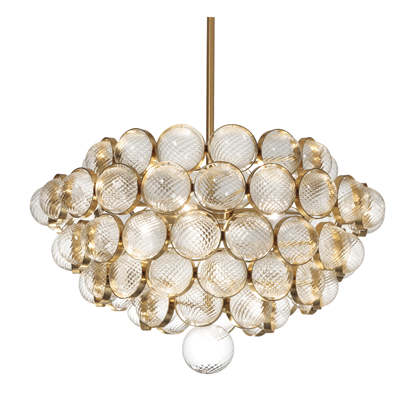 Alongside the reinvigorated Flexus family, Baroncelli's Atomos pendant will bring a contrasting regularity and rigid structure to the lights on display. This pendant, with satin brass rod and hand blown clear glass spheres with spiral ribbing, is symmetrically aligned but also has a rich vitality and brightness to it. Each textured glass ball within this lively cluster is held within a flat metal ring to allow the handmade glass pieces to be individually framed as well as to float seamlessly. The intricate and individual working on the surface of the glass allows light to bounce in intriguing patterns whilst drawing the eye in to engage with this statement piece.

Baroncelli's second room at designjunction will feature the Saturno LED table lamp, a new design borne out of the success of the established Saturno family. Cristallo trihedrons bolted to a horizontal metal ring will be lit by a continuous line of LEDs. Two vertical rods connect the cylindrical base to the ring of LEDs. The lamp will be available in three finishes of copper, galvanized gold or a glossy black nickel. The Saturno wall light will also be available in these new finishes allowing these lights to work successfully in a variety of residential and commercial interiors.
Baroncelli is also delighted to be presenting the Saturno LED pendant with the metal work in brand new rich copper. Not only will this dramatic pendant cast a striking silhouette emphasised by the continuous glow of light emanating from the slim band of LEDs, but the warm metallic tones of copper will create a completely new impression and disposition to this beloved design.
Baroncelli's installation in Milan will exemplify the company's hallmark of creating imaginative and unexpected designs whilst celebrating the challenge of working with glass and a variety of striking materials in intuitive and engaging ways.