JOI-Design has recently completed an expansion and its second renovation of the Hotel Ritter Durbach in Southern Germany's Black Forest. Founded in 1656, the property benefits from an idyllic location between the wine route of the German region Baden-Wurttemberg and the French region of Alsace.
Hotel Ritter has claimed its place as an award-winning destination, including a Michelin star in 2010 for its gourmet restaurant, Wilder Ritter.
JOI-Design's objective was to create a unique leisure experience that embraced its location without damaging the hotel's soul. Through contemporary palettes and materials, their solution bridges the traditional with the modern by bringing 21st century twists to classic German concepts.
With a vibrant play upon baroque style, Wilder Ritter (wild knight) has been given a refined makeover fitting for its Michelin star. Scrolled tone-on-tone ebony wallcovering and rich timber panelling are emboldened by splashes of crimson velvet in the upholstered chairs and twinkling crystal chandeliers. On the walls, curated collections of vintage silver dining utensils become art installations.
Working in harmony with the existing de?cor, the new annex continues this tapestry of the old and the new. New meeting rooms subtly reference the region's winemaking heritage with an abstract grape motif in their carpets. A relaxed break-out space mixes comfortable conversation areas with natural touches.
A charming new introduction is the Ritter Lounge, a 45 m2 winter garden with an inviting, light-filled atrium designed to have plenty of glazing and skylights for the rays of the sun to filter through. In the centre, a modern fireplace warms guests as they soak-up the sunshine in comfy leather armchairs enlivened by dashes of magenta and lime in the scrolled accent cushions.
With this part of Germany renowned for its wellness holidays, the spa's popularity was so great that it has now doubled in size. In particular, the "Kra?uterkammer" – an "herb chamber" where infused vapours are inhaled – was so well received that amenities for this treatment were expanded. Here, the palette borrows from neighbouring vineyards with soothing shades of lavender and honey reminiscent of a Pinot Noir or Riesling grapevine, and comfortable lounge chairs envelop guests as their tensions ease. New treatment rooms feel calm in clean shades of white and spring green, while a soft glow emanates from a backlit dropped ceiling so that glaring lights don't spoil the pampering.
Further relaxation rooms were added, each with an assortment of cosy seating options including side- by-side chaise longues; an expansive, uniquely designed sofa lounger to accommodate numerous spa- goers; and playful beanbag chairs. Deep olive-toned walls with berry and golden coloured accents encourage a natural feel, while sheer dividers and a rustic timber partition frame contribute degrees of intimacy. In the heart of each room, a flickering fireplace warms and soothes guests. A new tea lounge and library is a quiet place for transitioning from the serenity of the spa back into the liveliness of the hotel.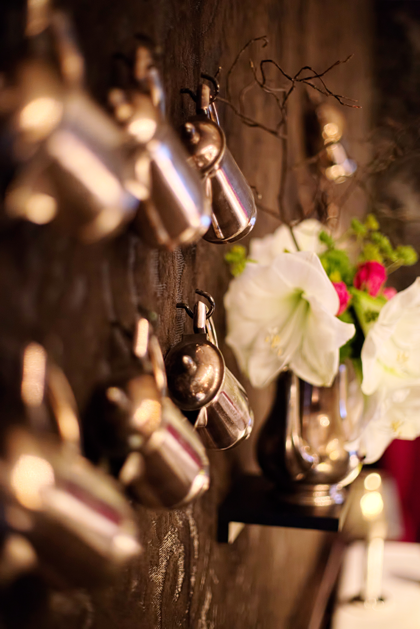 Forty new rooms and suites with vivid bursts of colour have been designed in a style sympathetic to the existing ones. Apple green curtains bring zest to the atmosphere, and a wall panel inset with deep raspberry-toned niches adds architectural interest for the desk and minibar facilities. Leather headboards have been embossed with the hotel's updated "knight" logo. Nestled under the eaves, the suites have an especially cosy feel. Inspired by the majestic beauty of the Black Forest, JOI-Design's fresh approach reinforces the Hotel Ritter's legendary provenance while creating a contemporary destination that appeals to all the senses.