Coca-Cola's UK subsidiary has moved into its new London headquarters in Wimpole Street, London W1.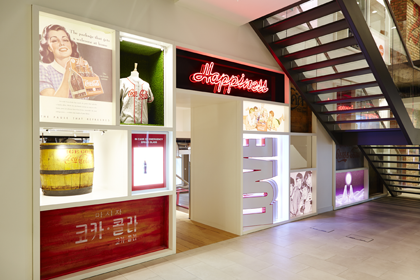 The company's new London base is a 1920s building which has been refitted throughout. It is set over four floors, covering 66,000 square feet and features a roof terrace, café, meeting rooms, open plan office space and hot desk facilities. ??The interior of the building, designed by award-winning architectural-designer MoreySmith, is a celebration of Coca-Cola's heritage and place in popular culture. The design unites the Edwardian Baroque-style front of the building, with a more modern rear extension via a staircase which runs through the core of the building. A custom-built, double-sided display wall has been installed over three floors and provides a spectacular backdrop to display the brand's long heritage, including iconic original Coca-Cola memorabilia from its archives in the US.

At the heart of the building, hanging from the second floor into the reception, is a specially commissioned work by award-winning British artist/designer Stuart Haygarth. The 6.5 metre high comet shaped installation features more than 80,000 acrylic ice chunks, suspended on ultra-fine wires and illuminated by LEDs.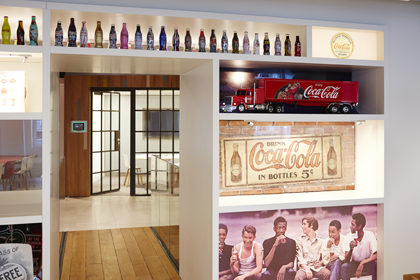 Linda Morey Smith, Principal Director, MoreySmith commented: "We are thrilled to have designed Coca-Cola's new office. Using the brand's iconic history, we have created a vibrant space which draws upon the positive energy of the organisation. The diversity of work spaces and unique social areas will hopefully inspire all who inhabit or just visit the building. I hope the Coca-Cola team will be very happy in their new environment."

Sustainability has been at the heart of the refit programme and Coca-Cola hopes the office will achieve the SKA Gold rating in recognition of the work undertaken to fit out the building sustainably. The building also includes features such as extensive LED lighting throughout and Photovoltaic (PV) cells on the roof to generate electricity for the building.