Light Sleep Seminars have been unveiled for the May Design Series at ExCeL London, bringing a sneaky glimpse into the world of hotel design excellence ahead of the November sleep Event schedule this year.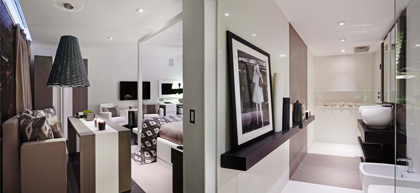 For those who simply can't wait until November for Sleep, the much anticipated annual hotel design conference, Light Sleep is a series of free, trade-only seminars taking place at ExCeL London on Monday, 19th May 2014, during the May Design Series.
As part of show's Conversation Series, three thought-provoking sessions will explore the newest ideas in hospitality design with panellists drawn from the industry's top movers and shakers and will be moderated by Guy Dittrich, freelance writer and independent commentator on hotels, travel and design.
Starting-off the show at 3.15 pm is the topic "Trending Hotel Design". Chris Webb, Senior Director Interior Design, Hilton Worldwide; Anita Rosato, Principal, Anita Rosato Interior Design, and Paul Bevis, MD, Bevis Design Associates will investigate the notion of hotels as a laboratory for design: a chance to experiment with function and volumes in a demanding design environment, one where paying guests are too ready to complain whilst owners want a differentiated yet timeless style. The panel will look at the latest trends within the wide-ranging remit of hospitality design, for example micro-hotels and all- suite hotels, and discuss how the experts are managing and shaping them. Don't miss this opportunity to be ahead of the pack in learning about the demographic and psychographic shifts that are impacting hospitality design.
"Hotels, the Design Catalyst", at 4.00 pm, examines the crossovers between the retail, restaurant, bar, cultural, educational and even hospital design sectors. The parallels between hospitality and residential design are clear. After all, every hotel guestroom needs a bathroom and to be furnished and lit. Equally, the blurring of work and leisure in today's hotel lobby / lounge is now being seen in the office environment. Fiona Thompson, Principal, Richmond International, London; Rab Bennetts, Principal, Bennetts Associates; Rachel Johnson, Associate Vice President Studio Director – London, Wimberly Interiors; and Ken Mackay, Senior Partner, Mackay and Partners reveal what inspiration specialist hospitality designers derive from other industries and, conversely, how studios designing a wider range of projects adapt their experience from other sectors for the benefit of their hotel work.
Wrapping everything up at 4.50 pm will be a keynote presentation entitled "The Value of Design", during which Marco Nijhof, CEO of yoo Hotels, will chat with Guy about the real impact that results from the massive investment hoteliers and hotel owners make in good design.
Be sure to join-in on the drinks and networking after the seminars, as the show will be open late until 8.00 pm.
This year, Sleep will be held on the 26th and 27th November at London's Business Design Centre.
www.thesleepevent.com
@sleepevent
www.maydesignseries.com
@maydesignseries
Find the May Design Series on Pinterest: pinterest.com/maydesignseries
Image: Pixel Projects collaborated with Kelly Hoppen MBE for a model hotel suite at last year's Sleep event.