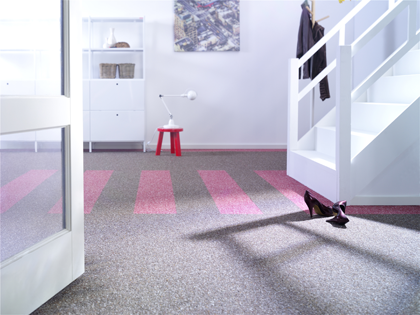 Heuga offers high quality modular flooring for the home, offering a wide range of carpet tile collections that are suitable for every room in the house. With Heuga, you can create a seamless impression in either a single colour block or in any pattern – from single borders to striking geometry, to a full chequerboard effect. What's more, the beauty of the modular tile system means that should any damage occur, you can simply and subtly replace the small affected area only.
Heuga carpet tiles offer excellent sound absorbing capacity of at least 10 dB and score very high in terms of noise reduction, making them particularly useful for residents of upper floors and apartment buildings. Also, Heuga carpet tiles are suitable to use with underfloor cooling as well as underfloor heating. Asthma sufferers and those with breathing problems will be pleased to learn that Heuga actually improves indoor air quality as it absorbs common airborne pollutants such as dust and allergens which can then be easily vacuumed away. In fact, an independent study carried out by the German Asthma and Allergy Foundation found that the air over smooth floor coverings contains almost twice as much fine particulate dust than air in a carpeted room.
Heuga offers many more advantages, including: seven-year guarantee; convenient size (50x50cm) enabling easy lifting, transportation and installation; easy cleaning and maintenance; hard wearing; sustainable and socially responsible; also ideally suited for creating rugs using the patented glue free installation system called TacTilesTM.
Heuga, being part of Interface, operates a "Mission Zero" environmental commitment in becoming a fully sustainable company, eliminating any negative impact on the environment in every creative, manufacturing and building decision and leaving zero footprint by 2020.
Contact Heuga:
Website: http://www.heuga.com
Facebook: https://www.facebook.com/Heugahomeflooring
Twitter: https://twitter.com/Heuga_NL
YouTube: http://www.youtube.com/user/HeugaHomeFlooring/videos
Pinterest: http://pinterest.com/heuga/
LinkedIn: http://www.linkedin.com/company/heuga-home-flooring-bv