Hospitality design consultancy Salon Edesia has completed its first commissioned project, Kurobuta, the Japanese restaurant brand.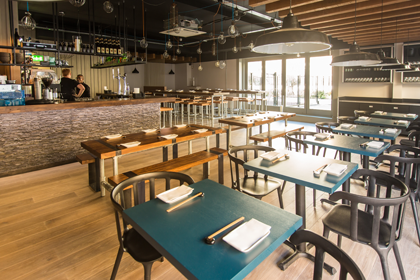 Salon Edesia specialises in the design, development and delivery of hospitality, F&B retail and leisure spaces and the food and beverage offers they serve. They believe in balancing creative design with commercial sense and work with a simple design process that keeps the development of projects aligned to the creative vision and commercial stipulations of clients.
Salon Edesia are focused on delivering environments that reflect hospitality in its truest sense, and they achieve this by collaborating with their international network of specialists from within the design disciplines, historic and contemporary food culture, the arts and commercial hospitality management. These collaborative teams are carefully chosen to ensure clients have the very best commercial and creative minds and skills working on their projects.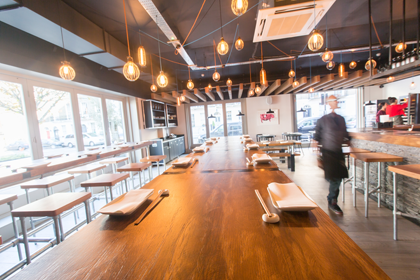 Meg Morrison, Founding Partner, directs Salon Edesia's design projects. She is former head chef to the Getty Family and has 15 years of operational and brand development experience within the hospitality and super-yacht industries, enabling her to create successful, workable designs for clients.
Former Nobu head chef Scott Hallsworth's brief for Salon Edesia with Kurobuta was to create a commercially scalable, mid-market restaurant brand based on an izakaya, the Japanese equivalent to a pub.
Salon Edesia took research and insight into Japan's urban izakayas and integrated it with Scott's 'rock and roll' spirit and his commercial and creative vision. The interior design encourages the sharing and enjoyment of Scott's menu, maximises on covers, provides practical solutions for the all-day service operation and lends a variety of ergonomic zones.
This flagship site in London's up-and-coming Connaught Village, W2, included key design elements created to be instantly recognisable and easily adaptable for future roll-out. One of these is the Masu sake cup logo mark, which features with specially commissioned illustrations of izakaya culture and street scenes to provide insights into Japanese culture and personality of the brand. Bespoke furniture was designed, also inspired by the Masu sake cup, mixing Japanese tradition with London modernity.
Scott Hallsworth said, "Salon Edesia produced fantastic research, insight and inspiration. They created an environment that provides customers with a truly 'rock and roll' izakaya experience, in line with the design and fit-out budget. It was great to work with Salon Edesia. I was involved in every stage of the decision making process. My creative vision and commercial goals were very much integrated into the deliverables."