JOI-Design has recently renovated the public areas of the Hotel Landhaus Wachtelhof, a five- star superior hotel nestled amongst green forests, flowing rivers and wild meadows in the heart of the German state, Niedersachsen.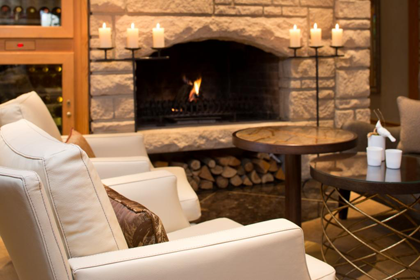 A modern-day castle originally constructed in the 1980s, for over a quarter of a century this family-run grand hotel close to the hub of Rotenburg has been warmly welcoming guests with its personalised and sophisticated touch. Now it presents itself in a new light, with every nook inviting guests to feel at home within the luxurious and exquisitely comfortable and setting.
The picturesque landscape, the quails which inspired the namesake of this country estate and the provenance of its site (a former tannery) all influenced the designer's concept for the new interiors. An intricate tapestry of the traditional and the modern translates the quiet beauty of the surrounding forests with a meticulous attention to detail.

The bright, open lobby and reception form a welcoming area for guests to gather and 'kick back' in comfort. A calm palette of warm earthy hues and finely textured surfaces evokes the hotel's pastoral locale and sets the mood, here is a place intended for relaxed enjoyment away from the hustle and bustle of urban life. Smart new sofas, club chairs and poufs accommodate guests varied seating preferences and are complemented by occasional tables fashioned from burnished metal tops and tinted glass bases, all of which are placed on s carpeting with delicate tone-on-tone floral motifs.
A fireside bar located between the lobby and restaurant has at its heart an impressive rustic stone fireplace with logs stacked below and sumptuous armchairs arranged in readiness for cosy indoor evenings. Accent lighting from tall floor lamps and artfully arranged candles adds to the inviting ambience.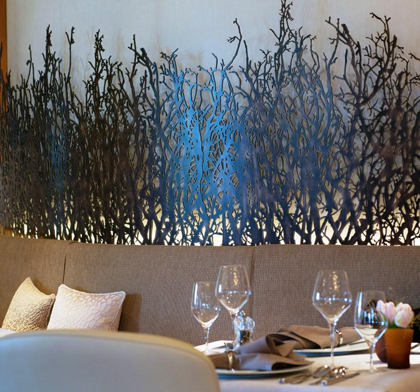 The restaurant 'Die Wachtelei', or 'The Quail Egg', is an attractive light-filled space serving seasonal cuisine with regional accents that draws gourmands from near and far. The designers have refreshed the décor, transforming the restaurant into a stylish dining room with contemporary furnishings chosen to complement the classic interior style. Modern glass lamps reflect the shimmering sunlight, while artwork that alludes to the destination's avian muse and woodlands encourages diners to linger over a leisurely meal.