Beast is an exciting new venture from designLSM's long standing client, the Goodman Restaurant Group.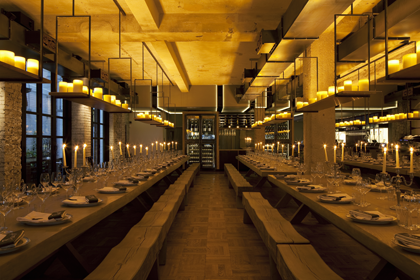 Hidden away on Chapel Place in London, this unique fine dining concept offers diners shared dishes of the finest Norwegian king crab and two kilo cuts of steak. The client was originally inspired by the communal meals served in rustic huts to the Norwegian fishermen who catch the king crabs and this is where the design has been established from.
Communal fine dining is easily the most unique aspect of the restaurant interior and represented the biggest challenge to the design team. The solution takes influence from medieval banqueting halls and the restaurant features six massive tables, each one a thick slab of oak measuring six metres in length. Long benches run the length of each table. Expertly made from green oak with scalloped seats, they create a raw and quite brutal effect, matching the simplicity and quality of the food offer. designLSM softened the interior with rows of softly lit rustic candle chandeliers and ornate candelabras dotted along the tables.
Diners are surrounded by dramatically lit tanks housing the live king crabs, fridges with large cuts of steak, wine cellars and an open kitchen. The food is opulent and messy, so diners are invited to use the concrete hand basins piled high with napkins, scented soaps and lemon chunks.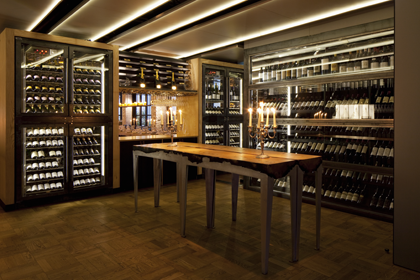 Beast works differently to most fine dining restaurants, so every aspect of the project was carefully planned by the interior design team and given the appropriate time to develop to ensure the unique restaurant could operate as intended.
Images courtesy of James French Photography.