100% Design celebrates its 20th edition with an opening by Philippe Starck and an invigorating and thought-provoking exhibition list.
As the driving force of creativity and commerce during London Design Festival, 100% Design will return this September (17-20), celebrating its 20th anniversary. International creator Philippe Starck will open the show on 17 September, to coincide with the unveiling of Flexible Architecture, his new ceramic tile collection for Ceramica Sant'Agostino on Capitol Designer Studio's stand. This special edition, staged over 22,000 sq m within Earls Court London, will mark the show's last appearance at this iconic venue before moving to Olympia London in 2015.
As the biggest design event in the UK, 100% Design is always known for its leading position in commissioning thought-provoking editorial content, to question, inform and invigorate the design community. Since the show was first staged in a tent off King's Road (London) in 1995, it has gone on to become the benchmark event for promoting design excellence and creativity, both within and outside the UK. 100% Design also continues to attract a record number of UK and international visitors year-on-year, and this year it has increased its overall exhibition space by 20 per cent.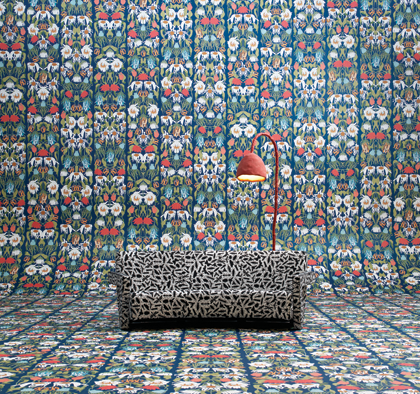 100% Design 2014 will comprise four key industry sections, Interiors, Kitchens & Bathrooms, Workplace and Eco, Design & Build. The ever-popular Emerging Brands, with 30 per cent increase in exhibition space this year, will also return, showcasing new design talent, alongside International Pavilions – featuring an array of innovative designs by creative practices from around the world. Confirmed exhibitors range from UK brands including Heal's, Original BTC, Naomi Paul, Decode London, to international names such as Vitra, Sandro Lopez, MASAM and Studio Brieditis & Evans.
To mark its 20th edition, 100% Design 2014 will also present a range of celebratory events – from an integrated timeline around the central bar designed by Studio Design UK, to a curated exhibition – entitled Design Kaleidoscope – showcasing 20 iconic design products launched at 100% Design.
This year's show auditorium, home to Talks with 100% Design, will be designed by long-time exhibitors and London-based design duo El Ultimo Grito, offering a live platform for an exhilarating series of talks and debates.
Curated by Claire Barrett, previously editor of Grand Designs magazine and launch programme director for Inside Festival, the talks programme will cover a wide range of on-trend subject areas and issues, including headline talks from some of the world's best designers and architects, including Jaime Hayon, Nina Tolstrup, Maxim Velcovsky, Eric Klarenbeek and Ross Lovegrove.
100% Design | 17-20 September | Earls Court, London | www.100percentdesign.co.uk