B3 Designers, have designed the interiors for newly opened restaurant, Lima Floral.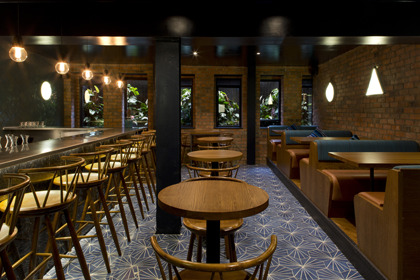 Located in Garrick Street, Covent Garden, Lima Floral follows the success of Lima in Fitzrovia that opened in July 2012. B3 Designers' brief was to develop an interior that stayed true to the core values of the Peruvian dining offer with strong references to nature, geometry and materials of the earth.
The 200 sq metre space is set over two floors accommodating 107 covers – 60 covers in the main restaurant on the ground floor and the bar and private dining room in the basement. With the inspiration coming from Peru's biodiversity, with a variety of food sourced from land and sea, the overall style is simple with emphasis on geometry and materials of the earth's natural elements.
The ground floor has an almost monastic approach with geometric details and feature lighting. In addition, an intricate metal work screen with a natural, twig-like composition is used to separate the entrance to the dining area. The basement floor has deep, rich midnight blue toned floral patterned tiles, creating a backdrop to textured finishes. Key features include bespoke wall lighting in various shapes in the basement – tear-drop and round shaped – that refer to elements of nature and materials of the earth which also reference growth. They are illuminated through glowing opaque glass with thin metal edging. The ground floor bespoke lighting scheme is geometric shapes – triangular – and ceiling fixed creating a light pattern, almost installation across the ceiling.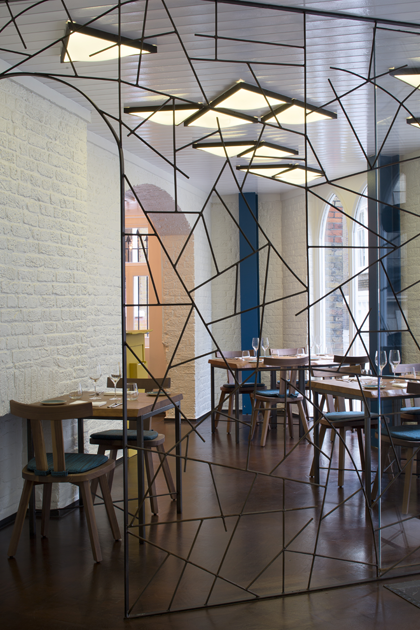 Special materials, such as hand-glazed tiles on the back bar in the basement and blue pearl granite used to the front of the kitchen server counter on the ground floor and to the front of the basement bar provide patterns as well as texture as they reflect the floor tiles. To add to the mix of textures, B3 Designers have placed a large waney edge table in the private dining room in the basement and five two seater individual waney edge tables in the main restaurant on the ground floor.
"We wanted to take the client's ideals of fresh, organic produce, ethically sourced and inspired by a variety of landscapes from the Pacific Ocean, the Amazon and the Andes Mountains and design the interior to evoke a spirit of this natural environment while allowing the space to be casual, comfortable and interesting." says Mark Bithrey, Design Director at B3 Designers.