Christopher Jenner has yet again proved his design prowess, uniting two cultures in the design of his latest project, the Ticket Hall for The Eurostar at St Pancras International.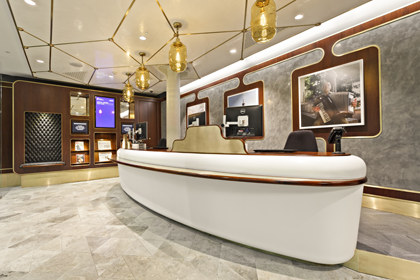 The new Ticket Hall for The Eurostar at St Pancras International embraces the age old discourse between English and French culture in favour of their shared artistic values.
Art Nouveau and Victorian Gothic design principles are expressed through a narrative of craft, heralding a return to the Golden Age of travel.
Christopher's design takes inspiration from Art Nouveau, where the fluidity of sinuous lines accent the movement of stylised motifs, and Victorian Gothic, where a reaction to industrialisation utilised craft to create an enriched, symbolic experience.
In the Standard Class ticket hall Christopher has created a 30 meter hand drawn illustration in photo etched stainless steel documenting the journey from London to Paris. Floating on the floor, composite complex curve service pods are married with French oak and stainless steel detailing.
In the Business Class ticket hall, handcrafted walnut cabinetry is interlaced with fluid brass edging. Graphic fretwork in brass frames the walls and ceilings which are finished in polished venetian plaster.
As part of Christopher's emotive approach to design, this project proposes a less pedestrian travel experience. Rekindling the crafted hospitality of the past, for a more considered future in the travel industry.
Images courtesy of Michael Franke.