Drygate Brewing Co., the experiential craft brewery, has opened in Glasgow's East End, with a refined industrial aesthetic developed by design studio Graven Images.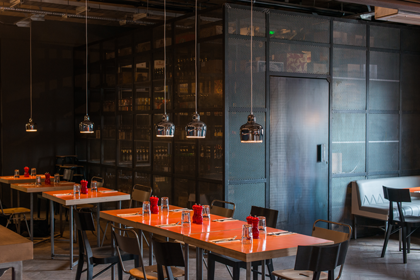 Housed in a two-storey warehouse built in the 1960s, the brewery comprises a restaurant, bar, roof terrace, events/gallery space, and 'Studio Kit' area where beer enthusiasts and would-be brewers can try their hand at brewing and even create their own brand.

The new venture is a collaboration between William Bros. Brewing Co. and the award-winning Vintage gastro-pub in Leith, with exterior interventions and interiors by Graven Images. The visual identity was created by D8, who worked with graduates from Glasgow School of Art to produce artwork.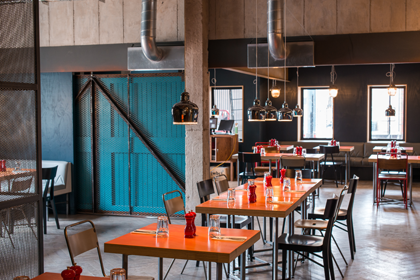 Adjacent to the Tennent's Wellpark Brewery, the Drygate building had been used as a box factory, print works, bottling plant, and most recently, as office and storage space, before opening its doors to the beer-loving community.

For the conversion, Graven implemented a design that concentrates on existing eccentricities of the building, bearing traces of all its previous incarnations and unique setting.

Shadowed by three urban architectural references – the Drygate tower blocks, Glasgow's famous Necropolis, and the towers of Tennent's industrial-scale brewery – the entire building, including the restored roof, has been painted in dark grey to create an imposing silhouette of its archetypical factory shape. With painted cladding and new oversized signage, Drygate Brewing Co. now sits proudly as a fourth recognisable landmark.

Starting with a blank stripped space, materials focused on interplay between inherited fragments of the building's previous lives and refined use of an industrial but warm palette. A staircase made of concrete which was uncovered during renovation became a central exposed feature of the scheme, and a beautifully preserved tiled façade welcomes customers at the entrance.

Throughout the interior Graven paired hard surfaces against warmth: mild steel, cast concrete, solid wood, and polished patinated copper in the bar; hardwood herringbone flooring butts up against a steel angle-frame screen dividing the bar from the working brewery; and surfaces of vibrantly coloured resin and paint play off against metal mesh and blackened steel.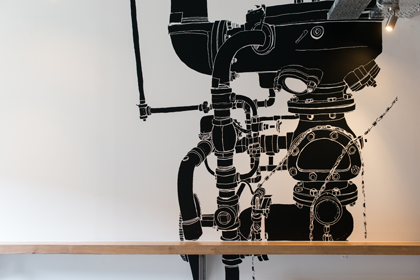 The image of the seven peaks of the building's roof runs through all the bespoke furniture and materiality as a detail theme – always integral, not applied. Representations of the peaks vary from clear zig-zag embroidery stitched into sofas, to subtler elements, such as angled, X-shaped table braces and steel diamond-mesh dividing screens.

The participatory nature of Drygate's business comes to the fore through an entire glazed wall in the Vintage Craft Beer Bar & Kitchen, offering diners panoramic views of state-of-the-art equipment and the fascinating behind-the-scenes operations of this working brewhouse.

Semi-transparent mesh cladding enclosing the take away beer shop reveals a floor-to-ceiling wall of bottles, acting as a decorative backdrop to the restaurant and menu of the wide range of beers on offer.

The upper level at Drygate houses a larger bar, function space, and roof terrace which can be accessed directly from outside via a feature staircase.

Among the more intricate details is a vinyl illustration of machinery found on the site, designed by Graven's Project Designer, Lauren Li Porter.

Recognising what was exciting about the pre-existing features of the building, Graven's scheme revolves around careful interventions rather than complete reinventions – from restoring the original roof and its iconic peaks down to preserving paint marks on the concrete floor, celebrating traces of the building's functional heritage.

Lauren Li Porter, Project Designer at Graven Images, commented: "Our idea was to make something iconic amongst all the surrounding landmarks, and in harmony with Drygate's industrial features. There was already an interesting structure in place, so we thought about the roots a lot and designed around the elements we felt didn't need to be replaced."

Details were cleverly improvised as the works progressed – the bar, for instance, is clad in timber shuttering which was originally used to form the precise concrete panels cladding the ground floor's restaurant bar.

Lauren added: "It was very much an evolving and reactive process. By working closely with the contractors, G1, with whom we have worked with on many other projects, we were able to uncover the layers of this historic building and react to all the exciting discoveries whilst on site."
Drygate Brewing Co. opened in May 2014.
Images courtesy of Gordon Burniston.