Ping Pong, Wembley, won the award for Multiple Restaurant at the Restaurant & Bar Design Awards 2014 on 25th September.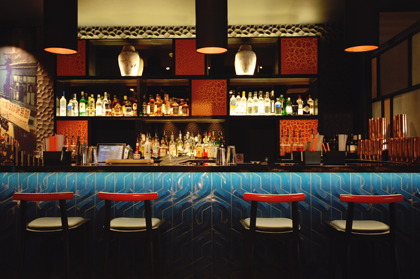 The new look, designed by SuperFutures, is reminiscent of the urban side of 1930s Shanghai chic has splashes of paprika red, Jade green and charcoal grey is guaranteed to whisk memories away from the nearby hustle and bustle.
From the more elegant new furniture and bar stools to custom-made artwork, lighting and panelling, this is a look masterminded by Superfutures. The concept takes reference from the intriguing and traditional side of old China – with the inclusion of an old street scene to the bold iconic artworks on the walls.
The dim sum counter has been bought forward into the restaurant so customers perched around the lit up counter can watch their dim sum being prepared in front of them stacked in the giant steamers, adding authenticity to the dining experience. A light box shroud wraps its way around the counter with custom artwork designed by artisan graphic designer.
The tea ceremony station – with iron tea pots stacked high on timber shelves alongside boxes of tea piled one on top of another – shows off the authentic Chinese culture; customers are able to see the ceremony of their tea being prepared in front of their eyes.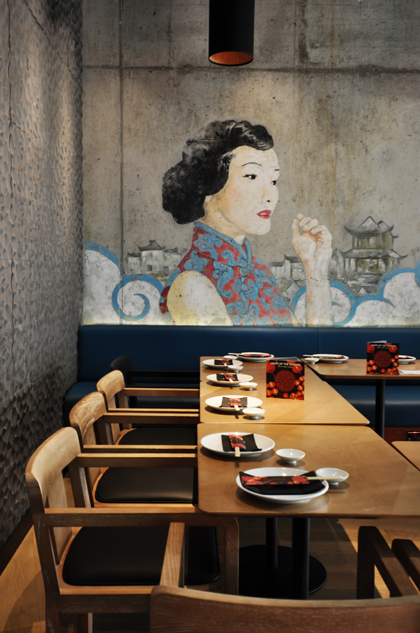 Moreover, the cocktail bar clad with 'dragon skin' effect tiles situated near the entrance makes this an enviable destination for customers to indulge in the kind of artesian cocktails that Ping Pong is known for.
The new Ping Pong interior design has been created by Superfutures, the furniture was designed by Andy Martin Architects with artwork comprising images from Getty and bespoke artwork/illustrations hand painted onto furnishings by Lana Webb.