Hamilton Litestat is previewing new 2015 lines set to join its unique 'on trend' range of designer and bespoke switch plate and sockets, and is showcasing the company's latest lighting control and multi-zone audio control systems at the hotel design event, Sleep 2014 this November.
At Sleep (Stand V8), Hamilton will be demonstrating how it focuses on meeting the specific needs of Hoteliers. The company's priority is to ensure the high expectations of guests are met, whether from the international business community or from the ranks of those "getting away from it all". Exceptional design is clearly priority but withstanding wear and tear and looking good for longer is a must.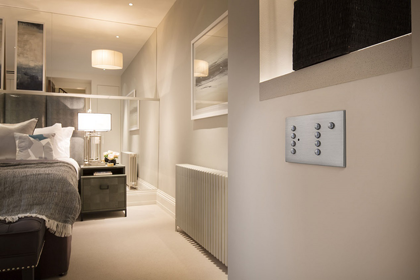 Making light work
Many projects call for site-specific items. Hamilton listens to clients and meets demand within the hospitality sector for tailor made electrical switches and sockets and smart lighting solutions, which can assist with cost and energy savings. In today's technology world it's important that hotels provide the necessary tools to keep this technology running – so providing fixed USB outlets within the hotel room to charge phones', tablets, digital cameras, etc. helps to ensure a guest's stay is more relaxing. Hamilton's range includes various modular USB outlets, plus the new 'USB99 Twin charger and power socket' all in one unit.
Hamilton's Mercury® lighting control system is a popular choice within medium-sized hotels as an automated multi-zone/entry-level building controls system. Systems, which are now industry standard fit outs include: room activation via a Key Card Switch system or PIR (motion sensors); programmable multi-scene lighting control for restaurant/bar and public areas that require changing ambient mood lighting. Partition switching is another popular choice, widely used within multi-layout conference/seminar function room areas.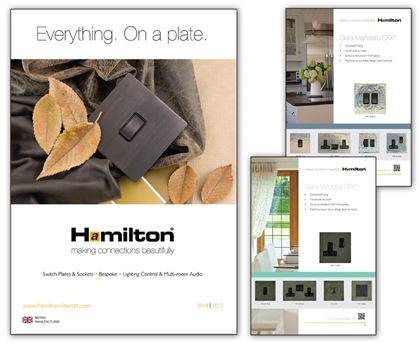 Tailor-made designs
When it comes to the exceptional or unusual, Hamilton's 'Bespoke' design service is the natural choice for hotel specifiers. When a non-standard plate configuration is needed, such as a special finish or colour, or a special plate function or technical element for a challenging project brief, Hamilton delivers a creative and efficient solution.
Going for Bronze
Hamilton is also showcasing its comprehensive Bronze range at Sleep this year. Demand for switch plates and sockets finished in Bronze among hotel interior designers and specifiers has hit an all time high during 2014 and looks set to continue into 2015 and beyond.
Ian Hamilton, Managing Director at Hamilton, commented, "Bronze certainly seems to be the finish of the moment, especially in much of our hotel work. We are seeing an exceptional trend towards our 4 Bronze finishes: Connaught, Copper, Etrium and Richmond, as well as our Bronze themed Italian style Verdigris finish. Its appeal is clearly international, with many Hotel interior specifiers using Hamilton's Bronze finish in projects across the UK, Europe and the Middle East. Working closely with interior designers to create bespoke plate designs for total hotel and venue fit-outs is another area of our business where we are seeing an increase in demand."
01747 860088 | info@hamilton-litestat.com | www.hamilton-litestat.com
You can also reach Hamilton litestat through these social media channels:
@Hamilton_LS
Linkedin: Hamilton Litestat
www.facebook.com/HamiltonLitestatuk
www.pinterest.com/HamiltonLite/