B3 redesign the interior of Las Iguanas restuarant, Derby.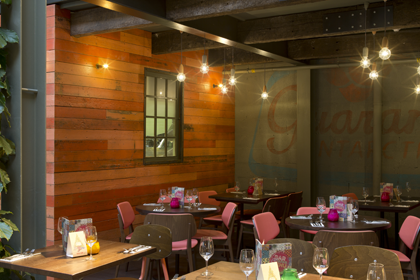 Award-winning hospitality interior designers, B3 Designers have continued their creative collaboration with Las Iguanas restaurant group, designing the interiors of Las Iguanas in Derby, which opened 11th October 2014.

As a thriving restaurant chain, Las Iguanas is a leading name across the UK bringing a unique 'irresistible bolt of Latin American energy' to the high street. B3 Designers' brief was to take the Las Iguanas brand, this time within a Grade II listed building in Derby, and reimagine the character of the space in context of Las Iguanas brand ethos – combining a faded grandeur style with a touch of fun and flamboyant Latino flavour.

The 380 sq metre venue, once an old bakery, accommodates 140 covers across two floors – ground floor and a mezzanine floor. The older parts of the Grade II listed building have been connected by a double height atrium space which brings natural light to the central area of the restaurant. As a result, an internal courtyard has been created in this space dressed with overgrown exotic planting and oversized, antique, bronze chandeliers dominating the apex of the central atrium. Exposed historic brickwork and giant distressed graphics on some of the walls recreate the feeling of street advertising prominent throughout South America.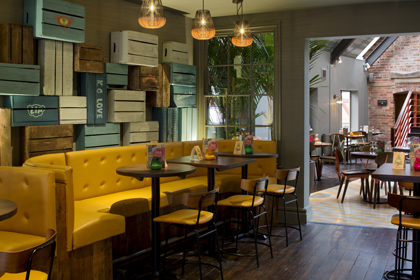 It's with these existing architectural features that B3 Designers allude to ideas of faded Latino glamour, in keeping to the Las Iguanas brand. Furthermore, reclaimed crates are stacked high above the fixed booths within the bar area and key materials such as Granito cement tiles in B3 Designers' bespoke Latino style pattern in washed out green and ochre colours and reclaimed timber boards in pastel tonal colours add to this fun and flamboyant Latino style.
Mark Bithrey, Design Director at B3 Designers said: "We always relish the challenge of bringing a vibrant Latin aesthetic into UK restaurant sites. Working with a Grade II listed building gave us a great opportunity to play with the idea of faded grandeur which is so prevalent in South America and of course stay true to the fabric of the building – these elements give an engaging sense of story to the space."
Las Iguanas 21-23 Friar Gate, Derby DE1 1BX