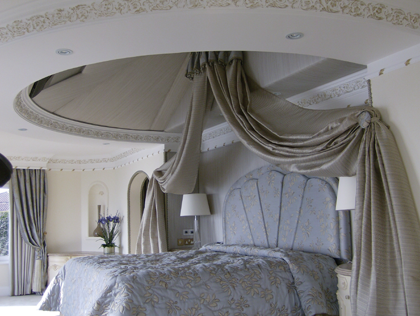 Recent research shows that bedroom design is about to embrace the wave of new automated technology. Detectors keeping a quiet night time vigil over health and wellbeing that are attuned to the person sleeping in the bed are just one of these concepts to be introduced to the bedroom. For those who must sleep in complete darkness there is the dim-out or black-out blind and expert advice is readily available.
Also envisaged is a choice of modern alarm methods that ensures a gentle and fresh introduction to the new day.
Tablet controlled blinds and curtains, as well as zoned lighting in the bedroom are all welcome changes. Regardless of the design style, clients today expect a greater degree of comfort and control in the bedroom. Interior designers can now accept briefs based on many new expectations utilising some of the ideas that are now available, including technological advancements.
Deanswood Interiors have been making curtains and manufacturing blinds for many years and they are proud of their history, keeping abreast of new innovative design changes. Whether a traditional, contemporary or ultra-modern bedroom we do have the experience and knowhow to accommodate and assist the designer – that is our way.
01634 814444 | www.deanswood.co.uk