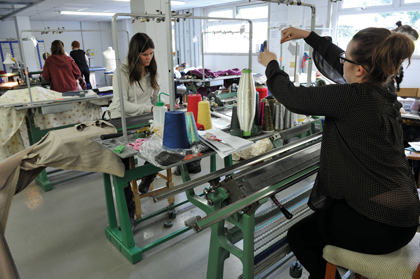 Textiles and Surface Design at Bucks is a multi award-winning course widely recognised by industry for producing innovative and highly skilled designers.
The course has evolved over 21 years and now the University has over 1,000 textiles and surface design graduates who have swelled the ranks of the diverse alumni and industry network.
Many of the graduates hold key positions in the fashion textiles and surface design industries, both in the UK and internationally. Graduates have gone on to work with the likes of Burberry, Missoni, Donna Karen, Abercrombie and Fitch, Mark Fast, Christopher Kane, Anthropologie, Zinc Studio London, Karen Nicol, Hallmark Cards, Cath Kidston, Heals, Marson Fabrics, Next, Marks and Spencer, Phase Eight and John Lewis.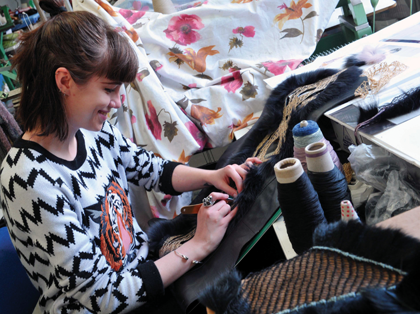 Graduates have also set up their own design businesses and have exhibited at 100% Design TENT, Origin, Indigo, Paris, ICFF New York and at London Fashion Week. Many tutors are also active in the sector running their own practices.
The course covers designing textiles for fashion and the interior with specialisations in the following three areas:
Knitted Textiles Design: Exploration of traditional and contemporary knitting techniques to inspire design for fashion, product and the interior.
Printed Textiles Design: Exploration of drawing, painting, traditional and digital fabric printing techniques for fashion and the interior.
Surface Design: Traditional and digital 2D and 3D textiles techniques using contemporary materials such as wood, leather, glass, metals and plastics.
Zoe Miller is a former student who has developed her own business and has come back to Bucks New Uni to teach on the course as a Fashion/Knit Tutor. Zoe comments, "I studied at Bucks in the late 90's and had a fantastic experience on the textile course. I came straight from a foundation in fashion and textiles and already knew I would specialise in knit. Fiona Ross, the pathway leader really encouraged us all to take our own approach and experiment and push our understanding of the discipline and how it might be applied. I arrived with a passion for knitwear and by my third year I was applying my work to concepts for architectural spaces and product.
I continued my studies at the RCA and worked on many live projects and was fortunate to win various bursaries and awards, which helped to fund my study and introduce me to a range of companies.
Since my MA I have worked as a designer for a range of companies on a project basis including Philips and WGSN. My work has also been applied to costume and set design as well a numerous commissions for bespoke works for interior spaces.
In 2005 I took part in the NESTA Creative Pioneer Programme, which was set up to help young creatives develop businesses. My studio has been based at Cockpit Arts in London for the last 10 years. I have developed a commercial range of accessories, which are produced and sold throughout the UK in boutiques and galleries.
It has been a real privilege to return to Bucks as the pathway leader for Knit and I hope to develop and evolve the course to produce innovative designers.'
0800 0565 660 | advice@bucks.ac.uk