Mitchell Abdul Karim Crites and Bethan Gray combine Contemporary Design and Islamic Craft combine for a Social Purpose to create The Ruby Tree
Image: Julian Abrams
The Ruby Tree, a new company, co-founded by current Elle Decoration Best British Designer, Bethan Gray and scholar and great revivalist of Islamic art and craft, Mitchell Abdul Karim Crites has launched worldwide with its first collection exclusively at the iconic Harrods department store in London November 6th.
Called The Ruby Tree after an old Sindhi folk tale about a nightingale and a pomegranate tree told to Mitchell Abdul Karim Crites during his travels in Sindh in the 1980s, the company seeks to create works of great beauty and refinement, made for the home and grand public architectural spaces, and made from the heart.
The first collection presents a series of beautiful furniture and tableware. Each piece is a precious work of art, made from the finest globally-sourced materials such as lapis lazuli, ruby, amazonite, rose quartz and marble, and is entirely unique with the subtle, individual variations that separate the handcrafted from the mass produced.
Image: Julian Abrams
The creative partnership between renowned Islamic art scholar Abdul Karim and British designer Bethan Gray was initiated when he was sent a picture of Bethan's award-winning black and white collection. He was so struck by the harmony and complexity of the lines and use of light, central elements of Islamic art and design, that he immediately wrote to Bethan suggesting a meeting to explore ways in which they could work together to combine his encyclopedic knowledge of Islamic Art and Architecture and ability to source, nurture and inspire creative talent with her knowledge of contemporary design, craft and her values of collaboration and education.

Yet the partnership has deep roots: both come from a heritage that reveres the craft traditions of the past. Abdul Karim has spent his life studying, preserving and reviving the great art forms of the Islamic world—a journey that has taken him from the sacred mosques of Mecca to the Metropolitan Museum of Art. Bethan's extraordinary background -her family hails from an ancient Rajasthani clan that over centuries migrated across Arabia and Persia into Europe, settling in the Celtic heartland, Wales- weaves a rich pattern of influences and inspirations. Her bohemian and artistic background is reflected in her designs, which draw on craft traditions of both East and West. Intricate patterns of light and dark, texture, purity of line, clarity, harmony and a connoisseur's eye for detail define her highly original style. Her rise to become British Designer of the Year 2013 reveals an innate ability to absorb and reinvent the best elements of design for a 21st Century audience.
Abdul Karim and Bethan as co-founders of The Ruby Tree and agents of change are both passionate about what they do and about passing on traditions to the next generation in a way that is relevant to today's design world. The Ruby Tree is built on the three tenets of social purpose, Islamic craft and contemporary design. The company seeks to keep highly specialised, endangered Islamic arts and crafts alive with the fusion of contemporary design and age old traditional techniques. The Ruby Tree's ultimate goal is to provide an ongoing progressive and 'layered' legacy of sustaining families, creating income, rebuilding social support for the artisans and actively supporting and nurturing the talents of artisans through its commissions and patronage.
?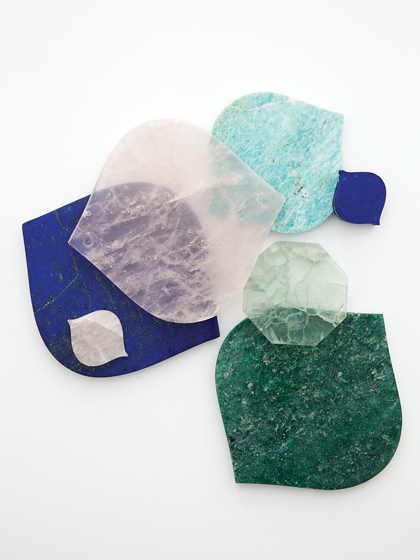 Image: Julian Abrams
"My aim is, and has always been, to find ways to revive these endangered arts and crafts and find a market so that the traditions can be passed on to the next generation. Our projects, over the four decades, have given work to more than 7000 master artisans and have had a profound effect on their families as well," says Abdul Karim, co-founder of The Ruby Tree, whose dedication to preserving the traditional crafts of the Islamic world, such as inlay, marble carving, calligraphy, stonemasonry, jewellery, ceramics and textiles has been a lifelong vocation.
Bethan Gray comments, "My family history and influences are intrinsically linked to the East so I have always had a fascination with the rich aesthetic, intricate details and technical history of Islamic craft and contemporary design. I am keen to keep the delicate, highly specialized traditions alive and seek methods of passing these on to the next generation in a way that is relevant to today's design world."
The Ruby Tree Collection is inspired by the timeless beauty of the golden age of Islamic culture immortalised in 1,001 Arabian Nights, felt in the dreamy gardens of the Alhambra Palace and reflected by the ethereal beauty of the Taj Mahal. Bethan and Abdul Karim have taken a unique scholarly and spiritual approach to the research and design of its collections seeking inspiration from the tiled dome of the early 17thcentury Sheikh Lotfollah Mosque in Isfahan built by the Safavid ruler, Shab Abbas I. It's a private mosque built for the use of the royal family and the gilded and iridescent tile work is considered to be among the finest in the Islamic world.
Image: Julian Abrams
The Ruby Tree Collection is a joyful celebration of the arts of the home, from dining and entertaining to relaxing. Each piece in the collection is a precious jeweled work of art, made from the finest materials in the deepest of colours: vibrant blue lapis lazuli sourced from ancient mines in Afghanistan, the finest deepest red rubies from Tanzania, rose quartz and soothing turquoise-green amazonite from Madagascar and Mozambique, jet black marble from the Bhaislana quarry in Rajasthan, a quarry which has been used for centuries by the royal families of Rajasthan, and sparkling pure white marble from Vietnam.

The use of marble, precious and semi precious stones lends the pieces a graceful, luminous presence that blends easily with both traditional and modern interiors, grand occasions or intimate gathering and conjure a setting of subtle splendor and the refined elegance of luxurious living: a dining table made of pure ruby petals blossoming across a white marble background, serving platters glittering with inlaid rubies, and candles radiating light filtered through translucent marble.
Along with its signature collections, The Ruby Tree offers a bespoke service and has a worldwide network of artisans, master artists, stonemasons, calligraphers, inlay experts, wood and marble sculptors to call upon. Each commission is handled personally by Bethan and Abdul Karim from the initial design research to delivery. The age-old system of individual patronage and commissions that has been lost in the modern world of mass-production is alive and well under The Ruby Tree.