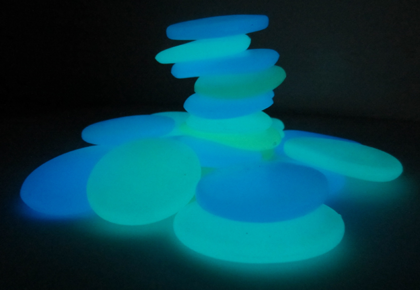 New developments in chemical technology and resins driven by architects and interior designers has opened up huge marketing opportunities for different artistic effects – as the light changes so does the effect on the building and surrounding area. The Eli-Glow product range is the very latest "state of the art" substance photo-luminescent pigments in sustainable eco-lighting technology.
This powder substance can be mixed with resin or sprinkled over most surfaces and sealed in place with a brush-coat and makes the original application completely luminescent, forever. Eli-Glow will come to "life" transforming the entire appearance into a unique and illuminist contemporary piece. Whether it's applied as part of an interior design brief or part of the building the applications are endless and safe.
The Eli-glow photo-luminescent pigments are not primary light reflectors, but are actual sources of ambient light. They absorb radiant U.V. energy from sunlight (or indoor lighting) and convert it into longer wavelengths in the visible spectrum, emitting it as light with the sensation of different colours applied. Colours currently available include aquamarine blue, yellow/green and cobalt blue. The Eli-Glow product pigments will release light for up to 8 hours in darkness and charge up after only 30 minutes of daylight.
aram@elichem.co.uk | www.elichem.co.uk