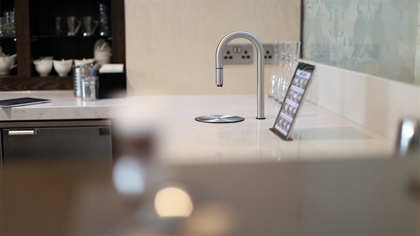 Currently undergoing a major refurbishment, the Radisson Blu at Manchester Airport is the biggest hotel investment programme in the North. As part of Phase One of the project, the hotel restaurant, Collage, has been completely transformed, doubling in size and providing panoramic views of the airport. Within the restaurantís major modification the Scanomat TopBrewer has been installed behind the bar area to serve coffee to dinerís in a unique and stylish way.
The TopBrewer by Scanomat is an innovative smartphone/tablet controlled professional bean-to-cup coffee machine, allowing the barista to serve freshly brewed coffee at the swipe of an iPad or iPhone.
A unique feature of the TopBrewer app is that it allows the barista to individually customise drinks for the customer so that each guest can have their own personal favourite, whether that be extra espresso in their cappuccino or extra milk foam in their flat white. Scanomat UKís Managing Director, Simon Bracken, said: ďThis project allows us to showcase the TopBrewer in a professional barista service operation.