Anthony Vrahimis Ltd. is a London based leather design and production manufacturer and is recognised as one of the UK's foremost leather product makers and design consultants.
With over 25 years' experience in the leather industry, Anthony fuses his creative talent and technical expertise with a team of highly experienced designers and craftspeople recognised for their incredible attention to detail. Anthony's core passion lies with architecture and interiors and highlights includes Mulberry's flagship outlets globally. He is currently completing a three year project for a private client in the Middle East and has recently completed a project for the Firmdale hotel group's new central London hotel launch.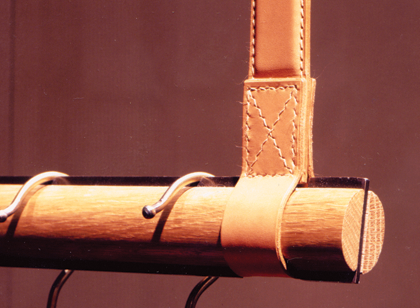 Anthony offers product development services and specialises in managing and implementing design concepts through to final production stage. Anthony also has a core focus on educational and research development and has been attached to the Royal College of Art and the London College of Fashion. He continues to provide facilities for courses in machine cutting and handbag design, in addition to overseeing and tutoring graduates from a wide range of educational facilities accredited by the University of London.
0207 686 0001 | mail@anthonyvr.com | www.anthonyvr.com