After the recent press launch at the BMA Annual Conference for the Hot Water Burns Like Fire Campaign and new website, there's much talk again within the industry regarding thermostatic safety, scalding prevention and providing consumers with solutions that they had perhaps, never previously thought about.
These solutions don't mean that you have to give up your design-led bathroom ideas, in fact just the opposite. Abode have come up with a unique thermostatic valve design which co-ordinates perfectly with 11 of their 13 ranges of creatively designed bathroom brassware.
As we are all probably aware, Government legislation introduced in April 2010 modified the requirement for bath fillers to be thermostatically controlled. (Scotland introduced this law three years previously). This means that all new-build homes across England and Wales now have devices to limit the temperature of the bathroom water to a maximum of 48°C. That is more than enough for domestic use and it also removes the potential for the most serious scald injuries to happen. However, this doesn't apply currently to standard home refurbishments.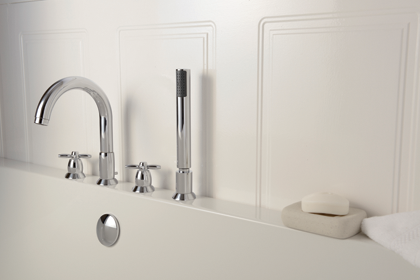 RoSPA states that hot bath water severely scalds over 600 people in the UK each year. Three quarters of these seriously injured victims are children under the age of five, many of them bearing the scars of their accident for the rest of their lives. Older people were also shown to be at particular risk of dying as a result of hot tap-water scalds, with an average of 15 pensioners dying each year as a result of such accidents.
To give an example of how Abode has responded to these statistics, the company designed and launched a thermostatic valve concept called Tempeau® which is not only an answer to hot water scalding, but is also designed to be an installers dream. Tempeau® has already won a gold award in The Designer magazine Design Awards plus it was a shortlisted product at the KBB London Innovation Awards.
The concept of this unique product was born partially from the legislation changes and partially from on-going conversations with the public and installers. Tempeau® is a UK designed product for UK style deck mounted baths, for UK water pressure and meeting UK building regulations.
The flexibility of the Tempeau® system allows for a mix-and-match approach to any bath or showering configuration. Whilst all the workings are hidden away under the bath, the only aspect the customer sees is the minimal, unobtrusive controls, design co-ordinated to any group of bathroom tap family styles.
Tempeau® is designed and created; to ensure thermostatic safety is delivered to both bathing and showering experiences, to allow the user to obtain the best possible flow performance from the UK's notoriously low pressure hot water systems, to be significantly faster and easier to install than traditional wall mounted solutions as Tempeau® is connected to the underside of the bath tap deck and to be intrinsically simple to understand and easy to order.
The result is a carefully selected combination of beautifully designed bathing and showering kits, which have been put together by the Abode designers to make life simpler and safer.
01226 283434 | info@abodedesigns.co.uk | www.abode.eu
Pinterest: http://www.pinterest.com/AbodeDesigns/
Twitter: https://twitter.com/abodehome