Copenhagen's NOMA restaurant presents Nordic cuisine infused with a Japanese twist and a décor that emulates this cultural blend.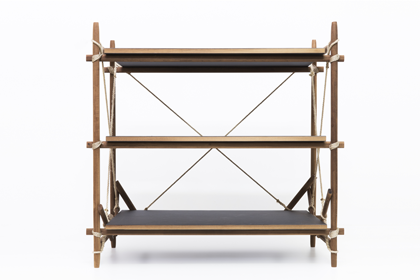 Copenhagen's NOMA, universally known as one of the best restaurants in the world is taking its 2 Michelin-starred menu to a pop up restaurant in Tokyo, opening this weekend. The restaurant is famous for its reinvention and interpretation of Nordic cuisine, which will be infused with a Japanese twist for its month-long stay in Japan. This blend of culture will be complemented by the restaurant's décor, which celebrates traditional craftsmanship techniques.

NOMA Shelving by Wahl&Ross, is made from Norway's Kebony timber, was designed exclusively for the restaurant by Drew Wahlberg Rosskelly, inspired by the beautiful, traditional woodworking tools used for generations by both Danish and Japanese craftsman. Drew Wahlberg Rosskelly, was selected as one of the contributing artists to NOMA Tokyo after the success of the culinary tools and other dining items he has designed for the NOMA restaurant in Copenhagen.

The shelves' strength is derived from the use of rope bracing and tightening techniques rediscovered from the maritime explorers and Vikings of the Nordics, while the timber lashing technique is inspired from historic Japanese craft. The shelve surfaces are made with a durable polymer used in Danish furniture classics, whilst the timber structure is made of innovative Kebony wood, a modified, high-quality, sustainably grown timber that is impregnated with alcohol and put under pressure and heat to make an extremely durable finish that does not need treatment.

In the restaurant 12 units are used to store the various culinary tools employed by the restaurant. The finish has been left raw and only lightly sanded so the material grain is celebrated and not polished away. The structure is light and collapsible for transport from Denmark to Tokyo, yet strong once all the elements are bound together.
One of the 12 exclusive units used in the restaurant can be purchased from Wahl&Ross.