SHH completes Pennethorne's Cafe Bar, a new hospitality offer located within Somerset House's west face.
SHH – 'Interior Design Practice of the Year' at the FX Awards 2014 and 'Best Large Design Studio' at the London Design Awards 2014 – has just completed its latest interiors project: Pennethorne's Cafe Bar, a new hospitality offer for long-term client and operator Levy Restaurants UK (the sports and leisure division of Compass UK & Ireland), located within Somerset House, one of London's most dynamic arts and cultural centres. The new venue is now open in a site on the building's west face, looking out onto Lancaster Place and Waterloo Bridge.
Pennethorne's Cafe Bar is a day-to-night venue, offering artisanal, deli-style food created by head chef Richard Robinson and head baker Michela Potesta. The space is named after and has been created in honour of Sir James Pennethorne, the highly-reputed nineteenth century architect of what is still referred to as the 'New Wing' of Somerset House, completed in 1856 and for which Pennethorne won the RIBA Gold Medal the following year.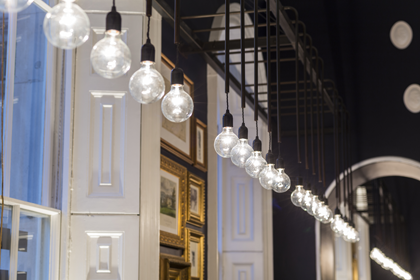 SHH branded the new venue and also designed the interiors concept for the 85-cover space, taking inspiration and design cues from Sir James, including references to the classic European 'Grand Tour' he undertook in the early part of the 19th century, which went on to have a great influence on his architecture and his world-view, as was the case for so many of his generation.
Roy Westwood, Creative Director of Levy Restaurants UK, commented: 'This is a great addition to the Somerset House hospitality portfolio and I'm sure it will be a very, very successful venue. We're extremely proud of the end result and of our continuing partnership with SHH, who completely connected to our vision, especially in creating the right balance between heritage and modernity – expressing the historical story of Sir James Pennethorne, but via completely contemporary means.'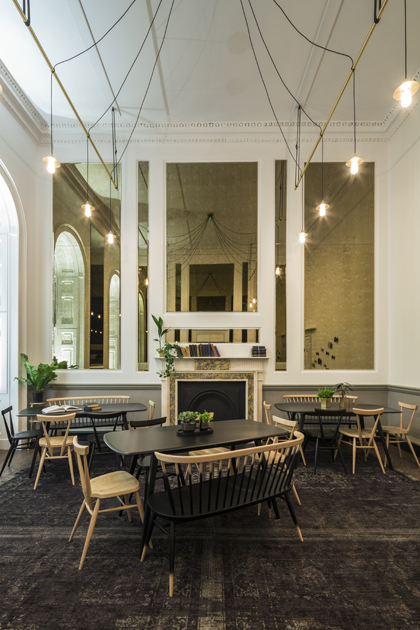 'The overall interior design treatment is rich, dark and daringly moody' explained the project's Lead Designer, Georgia Stevenson of SHH. 'It references early 19th century tastes, but with a modern twist and features inky blue walls, antiqued bronze mirrors, pre-faded rugs, dark timber loose furniture, dramatic lighting and bespoke banquettes in navy leather and velvet. A number of playful features referring directly to Sir James Pennethorne have also been incorporated.'
Branding
SHH's branding work include the identity – taken from Pennethorne's own flowing signature – and a range of applications, from signage to staff uniforms, which nod to 19th century attire and feature cravat-style neck-ties for male staff and specially-designed aprons for female staff, with a detailed waistband and 'bustle' feel, which were directly inspired by 19th century costume detailing. Staff are also encouraged to put their own spin on their outfits to add a note of individuality and underscore the venue's relaxed and informal atmosphere.
SHH's Head of Brand Priya Patel has created a series of fantastical images to accompany the identity, using 19th century cartoon illustrations of people, with their heads replaced by drawings of either fruit and veg or culinary utensils: a perfect encapsulation of the overall design treatment as a contemporary twist on 19th century inspiration. The surreal depictions (with the figures undertaking a number of activities, from cycling and playing sports to having their hair cut) have been used across a range of graphic items, such as menus, point of sale and disposable paper cups, bringing a 'smile factor' to the overall graphic treatment.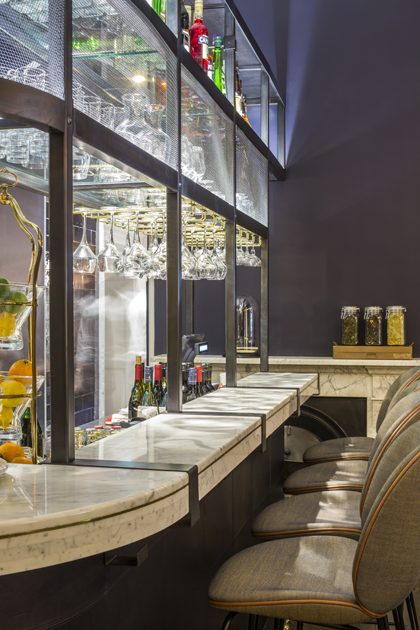 The food
The food on offer at the venue chimes exactly with the design cues alluded to by SHH and features classic flavours from the grand tour locations of France, Italy and Spain, with a modern English twist. At the heart of the menu are bakery items, created on site and featuring specialist breads and pastries, accompanied by freshly-brewed coffee, craft beers, cocktails and the finest selection of English and European wines, along with all-day dining small plates.
Design walk-through
As guests enter Pennethorne's Cafe Bar, the space is signed by a brass plate above the main entrance.
The rectangular layout of the space is partially divided halfway along by a central wall, which features a further direct reference to Sir James Pennethorne in the form of almost 50 identical cameos (each one 25cm high), bespoke-made from his portrait image.
In the first half of this space, the right hand side is home to 'The Larder', where the pass for staff to pick up orders is located, along with certain elements of the food offer, such as breads and hanging dried meats. Metal gantries above and timber shelving to the rear are used for food display, with a gloss charcoal tiled back wall providing a dramatic backdrop.
Directly ahead as visitors come in, is the 'Chef's Table.' SHH Project Architect Rose McShane explained: 'The 'Chef's Table is a central feature of the space and acts both as the main servery and food display area in the daytime – complete with till point – and as a long communal drinking table at night. It features a blackened steel façade, a Carrera marble top, a brass bar on the front for menus to hang on and lighting from Atelier two-sphere pendants with T-shaped black metal fittings and frosted spherical lamps, supported by the blackened steel frame.'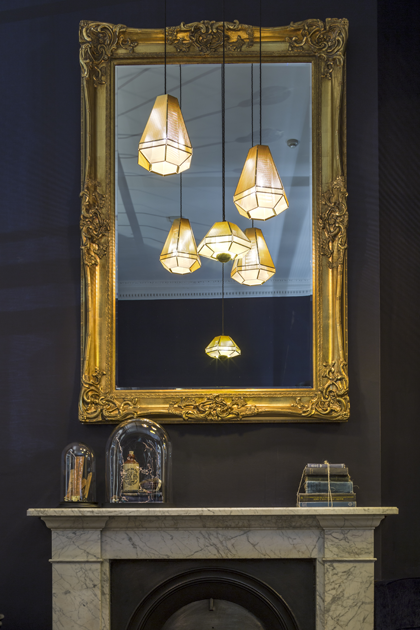 The bespoke navy banquettes in this and the next section, located below the row of six tall windows facing out onto Lancaster Place (and a dramatic overhead lighting feature), were designed by SHH, with leather seats and buttoned, velvet backs. Loose furniture here and throughout includes brass-wrapped tables (bespoke-made by UHS) and black-painted timber chairs with upholstered seats (the Ton Chair 33). A number of one-off antique furniture 'finds' have also been incorporated into the mix.
In further homage to the architect of the New Wing, the long, thin wall spaces between the six windows are filled with gold-framed pictures of Pennethorne's drawings and sketches of London buildings, as well as illustrations of key locations from his European tour, plus some classic 19th century imagery. Additional outward-facing identity signage is also located in each of these windows.
The stand-out feature bar is located in the second half of the space and has a leather front, with an almost patent sheen, along with a Carrera marble top and steel detailing. In the daytime, the 'Brew Bar' is located here, serving gourmet coffee (along with a traditional bar offering). The venue's coffee offer is a special feature, from house blend 'Number One' from the Three Sixty coffee collection to a range of other single origin coffees. At night, the 'Brew Bar' is dismantled and the bar becomes a dedicated service area, serving speciality craft beers and a range of fine wines, predominantly displayed in a feature wine wall to the rear of the bar.
Additional loose furniture in this half of the space includes a number of higher tables and stools (the Gubi 'Beetle' stool, upholstered in Kvadrat fabric and the One Bar Stool from Another Country). Lighting here includes a number of Tom Dixon lights, grouped together for added drama – the Cell Wall Light and two varieties of the Cell Short Pendant. Flooring throughout the scheme is in timber, with the existing flooring re-laid and stained a mid-grey.
A secondary space, called the 'Drawing Room', is located directly opposite the internal secondary entrance to the venue and serves both as an overspill area for busy periods and a space for private hire. Seating here includes single and double 'love seats' by Ercol in two-tone pale and black timber. This is also where the antiqued bronze mirrors are to be found, set into the existing wall panels, with the walls in this room painted grey up to the datum line and white above. Once again, the 19th century references are offset by highly contemporary lighting, with a pair of Ruben light fittings suspended from the ceiling, featuring six lights on each, suspended from two brass poles, which are in turn hung from the ceiling on leather straps.