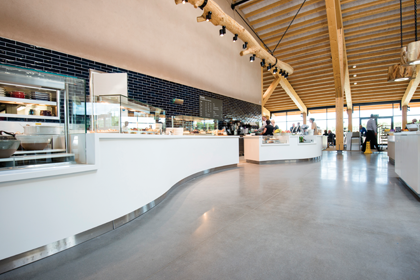 Gloucester opens its Gateway to Mapeiís eco products at Britainís greenest services, providing a top spec interior environment for travellers.
In 2014 a Mapei decorative floor system was installed at Gloucester Services, a new environmentally-friendly service station on the edge of the Cotswolds.
Located on the M5 Northbound, between junctions 11a and 12, ĎBritainís greenest motorway servicesí was delivered by AFL Architects. The main building is constructed from local stone and timber, and features an arched grass-covered roof set to receive BREEAM excellent rating. Three individual Mapei products were specified, alongside porcelain tiles and vinyl sheeting, throughout a 1,236m2 area. All floor works were carried out by Polished Concrete Designs for main contractor, Buckingham Group Contracting Ltd.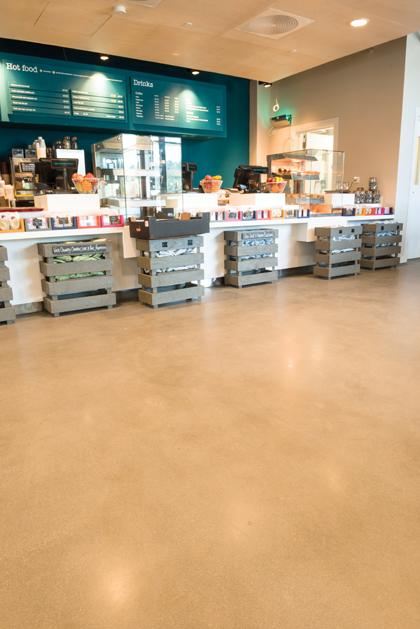 Gloucester Services, which opened in May, is a £40-million joint project between a local charity and Westmorland Limited. The charity, Gloucestershire Gateway Trust, will generate income from the service station, to support nearby target communities and charity partners in Gloucester and Stonehouse. The site includes extensive landscaping, along with electrical vehicle charging stations, a wildflower seeded roof and capacity to switch to bio-fuel pumps. A farm-shop will also feature at the site, stocked with local produce, in place of fast food outlets.
Within the main building, a screed incorporating Mapeiís fast drying hydraulic binder, Topcem was laid over insulation and underfloor heating. Mapeiís two-component, solvent-free Primer SN was applied to provide a key for Mapei Ultratop – a decorative Anthracite-toned surface that gives the appearance of a polished concrete. The petrol station was also completed using Mapei Ultratop Anthracite.
Founded in 1937, Mapei is the world-leading manufacturer of adhesives and chemical building products and a specialist in the production of adhesives and preparation products for the installation of wall and floor coverings. Its extensive product range includes products for the preparation of all types of substrates used in construction: Surface membranes, levelling compounds, primers, waterproofing, ready mixed mortars, special products for the repair of concrete, admixtures for mortar and concrete, adhesives for floor and wall coverings including, ceramic tiles, natural stone, resilient flooring and wood. Grouts and flexible sealants, mortars and binders for the restoration of period buildings, resin flooring, soundproofing systems, protective finishes for exterior walls and special hydraulic binders for screeds.
0121 508 6970 | info@mapei.co.uk | www.mapei.co.uk